10 Signs You've Chosen a Great Listing Agent
Posted by Chad Hendrix on Monday, September 12, 2016 at 3:10 PM
By Chad Hendrix / September 12, 2016
Comment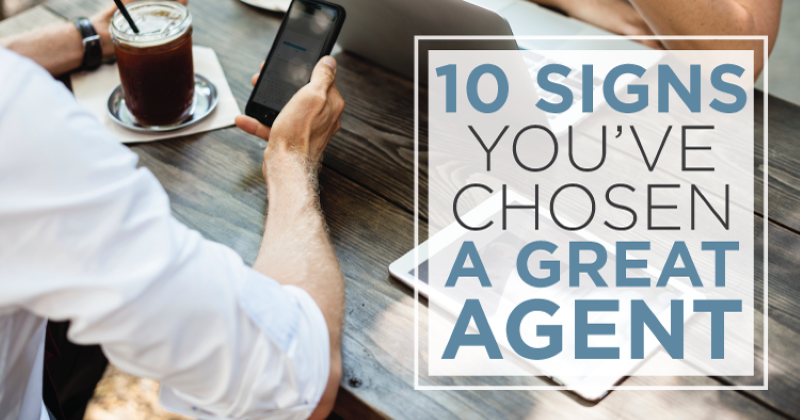 Think a good listing agent is defined by how often you see one of their flyers dropped in your mail, how many of their signs you see in your neighborhood, or by which company they work for? Good news! You've got more options than you think.
We're going to give you 10 signs you've found the right listing agent to represent you and your home, no fluff, no ulterior motives included.
Sign 1:
They're likable and easy to establish rapport with. If you like an agent, odds are most other Realtors and prospective buyers will, too, and that can be the 'intangible' difference that matters when it comes down to negotiations.
Sign 2:
Your gut tells you that you can trust them. If your agent's words don't ring "sales-ey" and they actually make you feel listened to, you're in a good spot. You've got to feel reassured that they're there for you and not themselves.
Sign 3:
They're not afraid to tell you the truth even when it may be uncomfortable or something you're not prepared to hear. Sometimes the truth can sting a little bit, especially when it comes to an unrealistic perceived market value or the condition of your home, but a good agent isn't afraid to hurt your feelings if it means they'll provide you better results in the long run.

Sign 4:
They've got data. When a good agent gives you their opinion on how to price your home, they can actually show you how they came up with that number. Some agents will voluntarily agree to list your home at too high a price just to get your listing, but experienced brokers know everyone loses when homes are priced too high.
Sign 5:
They work with a professional stager. Staging isn't needed in all homes but most can use at least a little polishing up. If your agent put forth the extra expense and effort to help you tweak the things needed around your home to help it sell, you know you're working with someone who understands the value of the presentation.
Sign 6:
They use professional photographers. Professional photography can be the difference-maker when it comes to measuring up against the competition, particularly online. If your agent is taking the pictures or video themselves - on their phone, no less! - your home isn't getting the attention it deserves.
Sign 7:
Their marketing materials are top notch. Marketing includes a lot of things: a good website, brochures, logo, digital marketing, etc. If your agent's own marketing materials shine, rest assured they know how to make your home shine, too.
Sign 8:
Their listings sell fast. The number of days a listing is on the market is often indicative of how well it was marketed and priced. If your agent is selling their listings faster than the competition, you're on the right track.

Sign 9:
They communicate well and are available. Good agents never forget that there is a real person behind their listing and that each home is more than just number. If you can easily get in touch with your Realtor or if you send a text or email and they get right back to you, you're a priority.
Sign 10:
(Our personal favorite) They get straight to the point and leave out the excess "fluff." Successfully selling a home doesn't require sales pitches or scripts. The best listing agents know it's all about taking the things that work and doing them better than everyone else. If your agent has to rely on a pitch to get your business, they're likely not focusing on what really works.
Is your listing agent measuring up?
Have you been interviewing potential agents and just haven't found one you 'clicked' with quite yet? Give Hendrix Properties a call. We're happy to talk to you more about just how easy selling your home should feel when you're working with the right agent.