13 (Very Important) Things to Know Before Listing Your Home for Sale
Posted by Chad Hendrix on Sunday, March 27, 2016 at 4:15 PM
By Chad Hendrix / March 27, 2016
Comment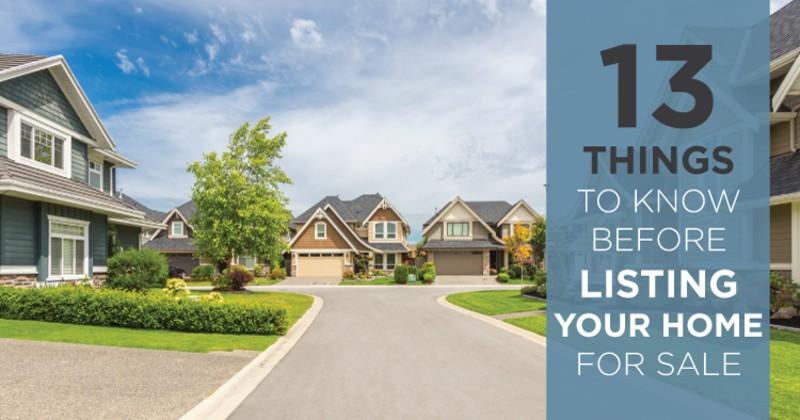 I often sit back and try to imagine what it would be like if I were just a homeowner without the knowledge that I have as a Realtor and wanted to sell my own home. What would I do? Who would I call? Where would I price it? Where would I even begin? Technology is constantly changing the real estate market, making it more and more overwhelming every day. I want to take the mystery and confusion out of selling your home and put everything in simpler terms. As I sat down to write this guide I thought of 13 things I really wanted you to know, because they're what I'd want to know if I were about to sell my house. You'd be surprised how many agents either wouldn't want to tell you or wouldn't know to tell you several of these items, but I believe an educated seller is the best kind there is.

Pricing your home high will not bring you a higher purchase price!


Consumers are smarter and savvier than they've ever been thanks in large part to all the digitally-available information out there. However, I still see home sellers (and agents!) pricing homes high thinking that it will bring a higher price. Folks, don't you think that consumers and especially their agents know what the home is actually worth? Would you knowingly overpay if you were the buyer?

By overpricing a home, you risk losing out on possible buyers who aren't searching in the price range you're listed in, and buyers may make assumptions that you're an unreasonable seller. You could be inadvertently creating more time spent on the market for your home, and possible appraisal issues IF you can actually find a buyer willing to overpay. The wise thing to do instead is to price your home at a good, fair price. In the case of a seller's market, you could even create a bidding war which will could either drive up the price a little more or, at the very least, bring you the buyer with the best conditions.

Know the factors that contribute to the value of your home. These factors will help you determine the appropriate listing price based on other homes available in your area. Make sure to weigh all the factors, not just focus on the best features. Pricing your home incorrectly can also affect a variety of factors like the volume of traffic, loss of buyers, time on market, and possibly even the appraisal.

You Do Need an agent to sell your home.


Now, I'm not saying it's impossible to sell your home on your own but a good listing agent can make a world of difference for you. They can help ensure a higher price, shorter selling time, provide assistance with legal documents, avoid common pitfalls, etc. It's just not worth it. The following statistics say quite a bit:
- 92% of homes sold are sold by an agent, versus just 8% for those listing FSBO (for sale by owner).
- Homes sold by an agent receive 18% higher closing price than those sold FSBO.
- 12% of FSBO sellers say they struggle with understanding and completing the appropriate paperwork.
- 6% of FSBO sellers admit they struggled with things like pricing the home, preparing the home for market, and time management during the sale.
- 18% of FSBO sellers say they struggled with selling the home during their expected time frame.



Not all Realtors are created equal.


Sure, anyone that passes the state real estate exam maintains all academic requirements and joins a local MLS board can sell your home. But just like in any profession, people make the difference. Some Realtors will naturally have a deeper understanding of what it takes to sell your home. Some may have more experience than others or a better work ethic, or simply a better personality. If you can find a Realtor that has everything you were hoping to find, you're on the right track for a successful home sale. Otherwise, your home may stay on the market longer, you may get a lower price, or you may just hate every minute of the selling process altogether.



A quality listing agent is not defined by the company they work for.
In other words, "Joe Blow" from National Real Estate Company may be no better than "Jane Doe" from Local Boutique Real Estate Agency.

As a matter of fact, it may be quite the opposite. Big companies don't grow unless they grow their agent base. They grow by having good hiring practices, having "tools" and training that appeal to agents and having a brand name that gives confidence to their agents. What no firm (big or small) can teach is work ethic, character, experience, or the ability to simply get the job done. The point is, don't get caught up in the name of the company the agent works for because it makes no difference to you as a seller. I know some pretty awesome Realtors (and unfortunately some not-so-great ones) from both big and small firms. It's all about choosing the right Realtor for your needs.



What you see if typically what you'll get.


Successfully selling a home requires a good mix of marketing, executing, and customer service. As you look around at one or more agents to possibly list your home, check out their website. Is it well put together, informative, easy to navigate? Or is it outdated and in need of work? Get testimonials. What kinds of things are people saying about that agent? Look for examples of their marketing efforts such as virtual tours they've done of past listings. Does it appear that they're using great photography and up-to-date technology? Even in 2016, I could randomly pick any 10 listings off the MLS and bet you that only 3 or 4 of them have professional photographs. What you see is usually what you'll get. Open your eyes and observe before you sign.



Home staging is a great investment.

Believe it or not, "home staging" wasn't a term I had ever heard of when I started selling homes back in 1999. Back then, it was simply about "making your home look nice" or "preparing your home for sale." But now, accredited Home Stagers exist that specialize in making your home look the best it possibly can. In many cases, a stager will come out for a consultation for $75-200 and give suggestions on how to de-clutter, organize, or use what you currently have to make the home look nice. In other cases, the home stager may need to bring more modern furniture out to help buyers see past dated decor. Depending on the number of rooms that need staging, this can usually be accomplished for several hundred dollars or more but is so worth it. If you're trying to sell your home for the highest amount of money and shortest time on the market, staging is not something you should be scared of. I work with the best in the business and can say without a doubt that home staging is worth every penny of its investment and more.



Use Professional Photography for your online listing and marketing.


Consider this: you've worked hard to get your yard looking great, painted your front door perhaps, deep cleaned your home, even staged it, and then your Realtor shows up and starts taking photos with their smartphone, tablet, or personal camera.

I see it all the time...While smart devices can do some pretty amazing things nowadays, they're no substitute for true professional real estate photography. The professionals understand things like creating proper lighting, color balance, knowing the right angles, correctly framing the shots, creating focal points, highlighting the best characteristics, quality photo editing techniques, the importance of quality equipment, and more. Photographs are often the buyers very first impression of your home, so don't you want that first look to be high quality and impressive to entice buyers to your home? A professional is able to create quality images that really showcase your home, they are not just taking shortcuts to get the job done.

There's so much more to it than just snapping photos. Your home will be displayed on websites all over the country so don't take shortcuts and don't allow your Realtor to either.



Curb appeal can be the difference-maker


This one is pretty self-explanatory but being that I don't see it stressed enough, I want to reinforce it. The outside of your home is typically the very first thing that people see. Your plant beds, lawn, and front entrance, all need to be perfectly manicured, edged, and welcoming. When the curb appeal looks considered, it's a pretty darn good indication that the inside of the home has been well cared for, too. And even if it means paying to get a landscaper out to help you, I'm suggesting that you find a way to do that.

Think about the way today's internet shopper is viewing homes. The vast majority of homes for sale use the front of the home as the first picture, so it's the first thing internet viewers see. If they don't like the first picture, they may scroll right on to the next listing.



A specialized agent might not be the best choice.


If you're currently living in a subdivision or niche area, you've probably seen several agents who constantly send you marketing pieces in your mail or newspaper box claiming to be the neighborhood expert, throwing stats and pictures of past listings at you. These are all efforts to keep their name in front of you so that you'll think of them when it's time to sell your home, but it's more about marketing themselves, not your property. So, let that be your main focus, not just what someone claims.

All agents have access to the same data that is needed in order to determine the true market value of your home whether they're a neighborhood "specialist" or someone from across town. Choose the kind of agent that I talked about in #3 and #5 whether they've ever sent you a postcard or not.



"Open Houses" don't sell your home.


I could possibly get run out of town by saying that, but it's true! Think about it. If you're looking to buy a home, are you going to ride around endlessly looking for open house signs with pretty balloons attached to them or are you going to hop on your computer or smart device and go straight to the best and most accurate source for homes for sale? I'm not saying that it never happens or can't happen but common sense should tell you that it's highly unlikely. The truth is, agents typically hold open houses to both appease the seller but also to attract some curious buyer prospects, ultimately turning them into clients. All while allowing complete strangers to roam through your home! Please keep in mind that I'm only speaking about the Charlotte region as a whole. Other localities may not utilize broker reciprocity or list all homes on the MLS as their common practice, but in Charlotte we do. Forget this practice and focus on the things that DO work.




Know how to sort through the fluff when finding an agent.


Agents trying to earn your business or get your listing will often throw some stats or bits of information your way to convince you they're the one you should go with. By no means am I suggesting that stats are a bad thing but it's important to take them with a grain of salt and focus more on HOW the agent is actually going to get your home SOLD. When I was new to real estate, we were often encouraged to say things such as "our company is #1 in the southeast" or "if we sell one of our own company's listings, we'll earn more commission and therefore our agents will work harder to sell your home." None of that stuff mattered then and it doesn't matter now if they agent who is listing your home isn't putting the right things into place.



Understand how the digital age has changed the way your home is marketed.


Twenty years ago, if your home were listed with an agent a picture and description would be in a really thick book and would be kept in the real estate office for agents to look through. I'm not kidding...a book! Eventually, the MLS (multiple listing service) actually became computerized so agents could view listings on their local office network computer. And then came company websites. Any given real estate company could now list all of their own listings on their own websites and you could view them online. And if you wanted to see listings with another company, you'd hop over to their site and on and on. But the big game changer was when "broker reciprocity" came about. With broker reciprocity, real estate companies and their agents could show other company's listings on their sites as long as they were willing to allow other companies to do the same with their listings. So, what does this mean? Well, no matter what agent or company site you go to nowadays, you're actually searching for everything on the market that's listed on the MLS regardless of who the real estate company is. These listings are the result of a direct data feed straight from the MLS. Now consumers truly have vast amounts of information at their fingertips and homes are not just shown on one website but literally thousands, from local sites to the national portals. With that being said, I'm sure you can understand how preparing your home, staging it, taking the best photography, etc., are more important than ever.




A good agent is worth it!


I totally understand that the thought of paying a real estate company to list your home seems like such a large expense but keep in mind that when an agent truly does it right, there's so much more to the equation than meets the eye. The marketing alone can be the difference between top dollar and average dollar; at Hendrix Properties, we literally put hundreds of dollars into a listing before it even goes on the market. Properly pricing a home (or not) can help a home sell faster. Good or bad negotiating can convince buyers and their agents of home's value or even cause a deal to fall through if delicate issues pop up. Managing the transaction all the way through and dealing with inspections and various other things that often come about is a pretty crucial element of an agent's job as well. And don't forget about half of what you pay a real estate company to list your home typically goes towards paying the buyer's agent, or whoever procures the buyer. Now, are all agents worth their pay? Nope. But, I believe a good one typically is.
Selling a home can be an incredibly important step in your life on many different levels and can also be an emotional one. Whether you choose to list your home with another company or put your trust in our hands here at Hendrix Properties, I want you to achieve your goal and believe that it starts with having a full understanding of what it takes.
If you have questions about any of the topics we covered here, or selling your home, in general, feel free to call or text me at 704-737-4400 or just shoot me an email at Chad@HendrixProperties.com