5 Towns Near Charlotte that Still Have a 'Main Street' Vibe
Posted by Chad Hendrix on Thursday, January 19, 2017 at 11:07 AM
By Chad Hendrix / January 19, 2017
Comment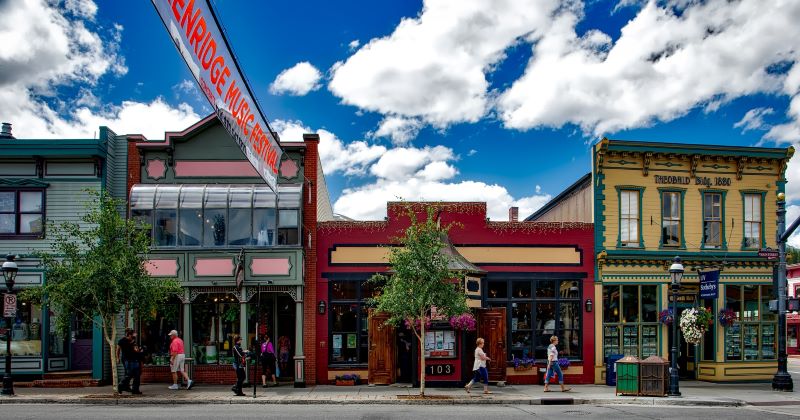 Just outside of the thriving metropolis of Charlotte, "main street" still exists. Many of Charlotte's best suburbs are actually best-kept secrets, offering a glimpse of simpler days and southern charm. We love strolling the wide sidewalks of our favorite downtown havens, ice cream in hand, smiling at passersby and soaking one of the best parts of living in Charlotte.
Want to live in an area that still has that "Main Street" vibe? These five towns near Charlotte offer the best of both worlds.
1. Davidson, NC
We've written before about why Davidson is one of the fastest-growing areas in the Charlotte metro. Downtown Davidson is literally the picture-perfect version of southern Main Street, lined with antique stores, clothing shops, and even a venerable "restaurant row" that's home to Kindred, one of the most touted eateries in the state. Adjacent to the gorgeous grounds of historical Davidson College, the downtown area is actually paved mostly with bricks, and exceptionally clean. Every year visitors and locals alike enjoy May Day, Movies on the Green, and a glittering "Christmas in Davidson" festival.
Best of all, it's actually surprisingly easy to find homes for sale in Davidson within walking distance of downtown. The surrounding streets are lined with historic homes ranging from brick colonials to single-story craftsmans. Between the college and the quaintness, though, Davidson's stock is on the rise, so it won't be affordable here for long.
2. Matthews, NC
Matthews has one of the most vibrant downtown communities of any area near Charlotte. From its weekly year-round farmer's market to a dizzying array of retail establishments, restaurants (including local Charlotte chains like Thai Taste and Dilworth Coffee!) and small businesses. Main Street is adjacent to Stumptown Park, a cute little slice of greenery that's host to events like movies on the lawn and various festivals throughout the year. And who can forget about Food Truck Fridays!?
Thanks to its proximity to both Charlotte proper and south CLT neighborhoods like Ballantyne, Matthews has actually become one of the most popular commuter "suburbs" in the state. Still, part of the CMS school system and home to juggernauts Family Dollar and Harris Teeter, the city is a smart choice for professionals and families alike. Homes for sale in Matthews range from two-story brick traditionals to new construction to ranch-style, and more.
3. Fort Mill, SC
Fort Mill has it all! No, really. The township of Fort Mill, just over the South Carolina line from Charlotte, is an absolute boom town. Thankfully, despite the rapid development of the once-farmland surrounding this community, it's quaint downtown has stayed largely intact, and even been improved. Main Street in downtown Fort Mill is still the heart of the city, and it shows. Some of the buildings in downtown date back to the late 1800s, including large mill buildings that were used for textiles in years past.
There's a major redevelopment surge coming for Fort Mill's downtown. Although at times, it's Main Street may still feel a bit quiet, new projects in the works (including a brewery) are poised to once again make it a hang-out spot for residents and visitors alike. For a bargain, downtown Fort Mill homes for sale offer a lot to think about; live, work, play in every sense of the word!
4. Mooresville, NC
Mooresville's downtown area is so popular it's even got its own slogan, "It's Happening Downtown!" Once just a train depot, downtown Mooresville today presents a Norman Rockwell example of "Main Street," from the painted old-timey advertisements on brick buildings to the gourmet restaurants, watering holes, and unique shops. The city has really gone above and beyond to make sure downtown Mooresville is a destination in and of itself, even championing seasonal events like food truck gatherings, farmer's markets, and special events like Trick-Or-Treating.
Looking for homes for sale in Mooresville? Most people here want proximity to downtown, if not lake access. Why? Because downtown is home to the "life" of the city; nearly any evening you'll find Mooresville's Main Street buzzing with diners, families, and strollers (the walking kind AND the baby-holding kind!) just out and about. It's that kind of place.
5. Belmont, NC
Belmont, located just to the west of Charlotte, feels like a step back in time. A major municipal effort was made beginning in 2013 to connect the commercial district of east Belmont to downtown's Main Street. As part of the "Main Street Program," downtown is continually being revitalized to attract pedestrians and shoppers to the area's many stores, restaurants, and shops.
Settled all the way back in the 1750s, houses for sale in Belmont, as well as downtown itself, have a lot of rich history. Just a few miles from the beautiful Belmont Abbey College, downtown teems with locals and students alike. There are actually a variety of events held in and around downtown each year including the Belmont Boo Fest, a downtown Christmas Village, and even a Summer Concert Series on Friday nights!
Ahhhh, Main Street. Who doesn't sometimes wish we could all harken back to the days of Mayberry when everything seemed so...simple? The good news is, the Charlotte area has all that, plus the amenities of a world-class city, too.
Interested in one of these downtown areas? We hear you. Give our team a call!