6 Reasons You Don't Need a Buyer's Agent (And Why They're All Wrong...)
Posted by Chad Hendrix on Tuesday, August 23, 2016 at 2:26 PM
By Chad Hendrix / August 23, 2016
Comment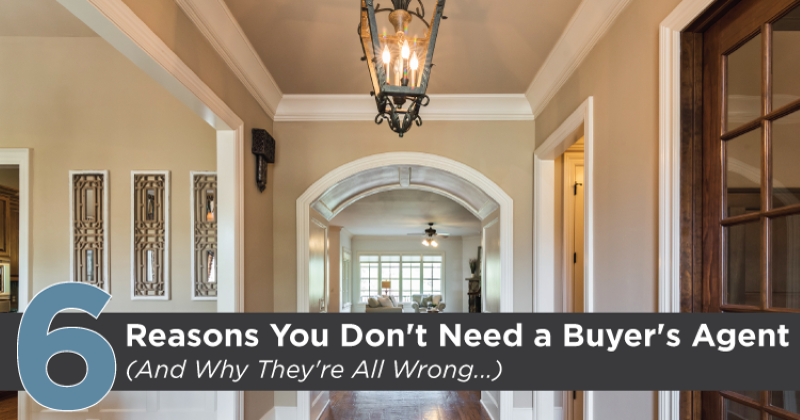 There's a pervasive myth out there that buyer's agents aren't really necessary. After all, can't you find your next home on Zillow, use LegalZoom to print off all the documents you need, then let your closing attorney take it from there?
We see all too many buyers coming to us after-the-fact, mid-transaction, or for their next home purchase in the wake of a disastrous buy, hoping to recoup some of the financial and psychological losses incurred through a bad experience without an agent. Don't let this happen to you.
Here are six reasons people might tell you there's no need to work with a buyer's agent – and exactly what you should ignore them all.
1. You can easily find your dream home by searching online.
Let's start with the big one. Sites like Trulia, Zillow, and Realtor.com are great resources, to be sure. In fact, 42% of buyers start the home-searching process by looking online. Unfortunately, there are so, so many reasons you can't rely on the information you find on large housing sites: out-of-date listings, incorrect estimates, and improperly described or marked listings are just the beginning. The only truly accurate source of information about homes for sale in your area is the MLS, and only a broker can grant you access.
2. Negotiating is simple if you're good at haggling.
Maybe you've got a strong stomach for negotiations…that's a great start! Then it won't be hard for you to swallow your emotions when it's down to the nitty-gritty of going under contract. But what most buyers working on their own don't consider is what they can't possibly know without experience undergoing many other home negotiations. For example, maybe the seller needs to stay in the house past the closing date you want – do you know how to negotiate a seller possession addendum into the contract? And do you know what options you have if you've reached an impasse over something "small," like a $1,000 difference in due diligence monies, or even closing costs? A realtor does.
3. You can handle any issues that come up during due diligence.
If something happens during the due diligence period – maybe a survey that shows encroachments or a bad inspection report – are you willing to walk away from the home if you can't get it sorted out? In some cases, we've seen sellers be very hardline with buyers they know aren't working with an agent simply because they don't think they'll get much pushback. A qualified buyer's agent is always on your side and they'll do the uncomfortable, tense back-and-forth on your behalf. Buying a house is stressful enough without having to become a de-facto lawyer, too.
4. It's cheaper to buy without using an agent.
Well, this is just a misunderstanding. In actuality, it costs buyers nothing to use a buyer's agent! That's right: having someone represent you and your best interests comes at no charge to you under the current broker commission arrangements in the U.S. When a property is listed on the MLS, the listing agent will list a % of the commission that will be paid to the buyer's agent. This amount is already agreed to on the listing agreement. In most cases, if a buyer decides to purchase without the help of a buyer's agent, they are not only unrepresented but more than likely, the listing agent will end up with any extra commission.
5. You are good at multi-tasking and can handle all the moving pieces.
There are a LOT of moving pieces in even the simplest real estate transaction. Between the inspector, appraiser, survey company, radon and/or gas survey, mortgage brokers, real estate attorneys, and seller's agent, you're looking at many, many points of contact from the get-go. As a buyer, do you know exactly when to schedule each meeting, or how long to wait on results before pestering a third-party? Additionally, if something comes up like a high radon reading or a structural crawlspace issue, would you even know who to call to get an estimate of repairs quickly? Your buyer's agent does.
6. You know what you're doing and the internet can tell you anything you don't know. You think.
The best part about working with a qualified buyer's agent? They wear a lot of hats for you. Not only are they your fiduciary, but they're also your analyst, your consultant, and your therapist all rolled into one. A good agent will be straight with you if they think you're getting a bum deal or leaving money on the table, and they'll also tell you when it's worth letting an issue go to save the sale. It's easy to become overwhelmed when dealing with complex, life-altering decisions; your real estate agent is there to help take the burden off your shoulders.
Make sense?
Buyer's agents might seem superfluous but they're one of those things you don't know you really, truly need until it's too late. Many buyers don't realize they can't bring in a buyer's agent midway through a transaction – once they connect with the seller's agent without an agent of their own, the seller no longer has to pay their agent a fee down the road.
Don't leave money on the table or take on more stress than is necessary. Contact a qualified local buyer specialist – like us! – today to find out why you really do need an agent. Friends don't let friends buy houses without them.