7 Things You Never Knew About Mooresville, North Carolina
Posted by Chad Hendrix on Thursday, April 16, 2015 at 10:26 AM
By Chad Hendrix / April 16, 2015
Comment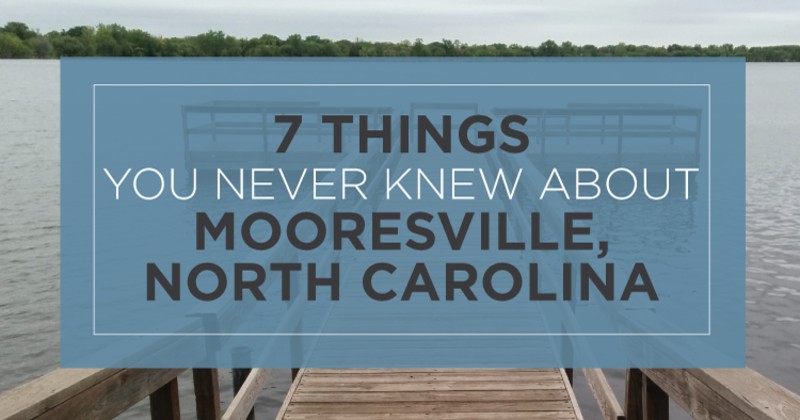 Think you know all there is to know about one of Charlotte's fastest-growing suburbs? Think again! Mooresville's population may be exploding, up nearly 75% in just the last decade, but the city's got a rich history.
Here are a few fun facts about Mooresville you can use to impress your friends!


1. Mooresville's unofficial "First Family" is, of course, the Moores. The city was actually called "Moore's Siding" until March 1873 when it was incorporated, much of its land having been donated by the greater Moore clan.
2. The city's most famous historical resident is an odd one. Dr. Selma Burke created a bust of President Franklin D. Roosevelt that later became the inspiration for his likeness on the dime coin. How about that!
3. You already know that Mooresville is also known as Race City USA, but did you know there are over 60 NASCAR teams and racing-related businesses are based here? In fact, Mooresville's sister city is Hockenheim, Germany, home to a well-known German racetrack.
4. The city places heavy importance on preserving natural resources and sustainable growth. Since Mooresville is a Lake Norman community, people here like to be outside. Good thing, because the city's got 15 parks, 15 tennis courts, 15 basketball courts, and 19 lighted ball fields. Oh yeah, and a community pool, too!
5. There's a super cool historical painting hidden inside the Mooresville Graded Schools building, formerly the old post office. Painted in 1939, it's a representation of the cotton industry in the south. There's actually an active historical archive of Mooresville on Facebook which you can visit here.
6. Mooresville has some seriously awesome schools. In fact, by 2010 every student between the 4th and 12th grade in the district was given a MacBook laptop.
7. Economic growth in Mooresville is booming. By 2025 there are expected to be over 40,000 workers in the Mooresville area and the five biggest projected areas of expansion are business/financial, technical manufacturing, automotive, clean energy, and retail/tourism.


Know all that? (Come on, you didn't know Mooresville had a sister-city in Germany!)
If we missed any cool Race City USA facts, share them with us in the comments.
And of course, if you're ready to look for homes for sale in Mooresville, call us! We're lake living experts.