An A to Z Guide for Getting a Mortgage in Charlotte
Posted by Chad Hendrix on Thursday, May 11, 2017 at 1:31 PM
By Chad Hendrix / May 11, 2017
Comment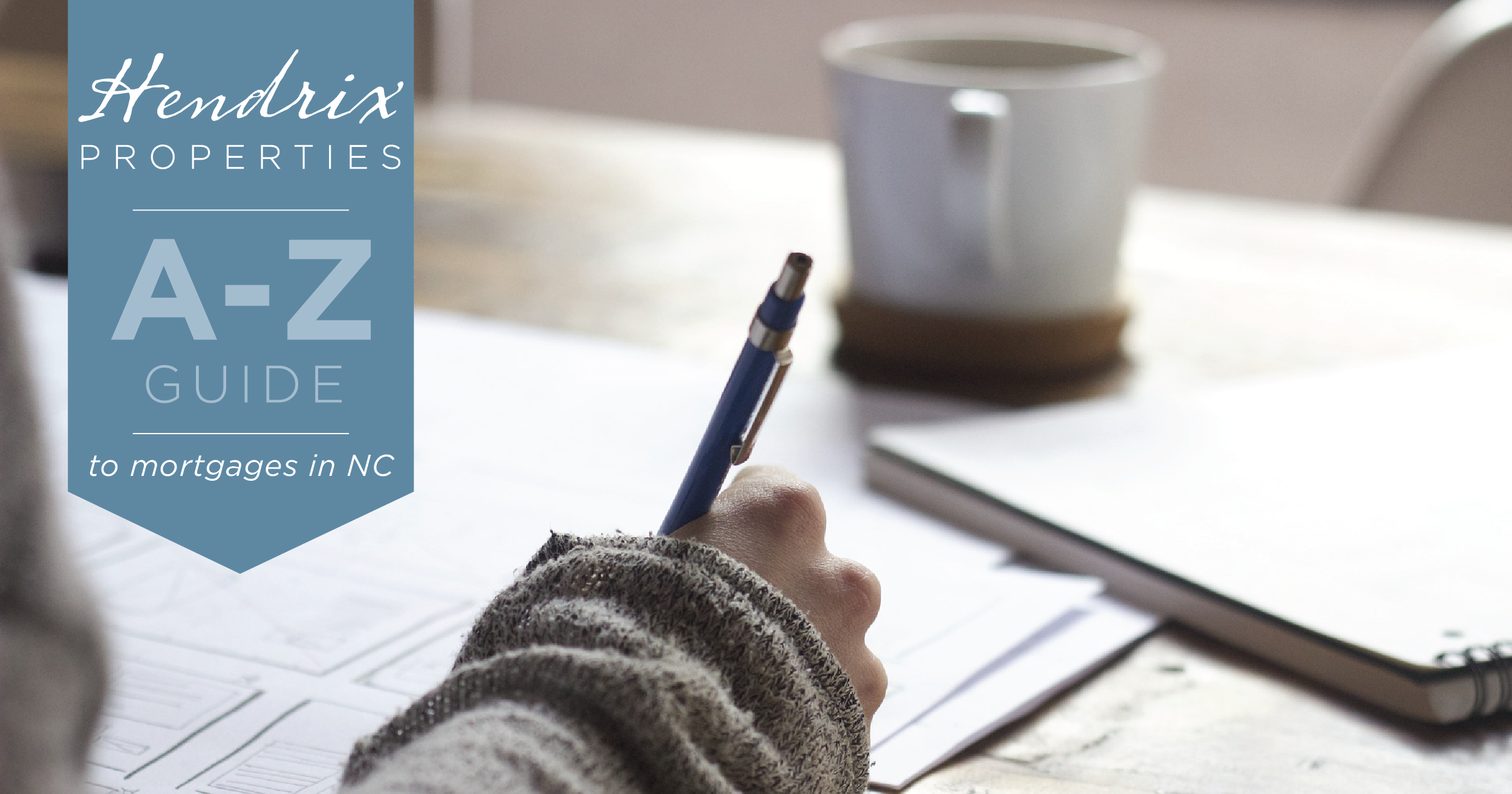 Buying a house is complicated enough. The mortgage process only makes things harder.
We help dozens of clients navigate the complexities of buying a home in Charlotte on an annual basis; mortgages are usually the most treacherous part. The mortgage process is most likely to hold up - and even sink - an eventual sale.
Are you buying your first home in Charlotte? Or maybe you're back on the market again? Here's a quick primer on the steps behind getting a mortgage in Charlotte, from pre-approval to closing fees.
Choosing a Lender
Let's start with some facts: Charlotte's real estate market is white-hot which means you've got more competition from other homebuyers than you've had in years. For that reason, most sellers prefer to see a pre-approval letter along with your offer, especially in cases of multiple bids.
The first step in the mortgage process, then, is choosing a lender. This can feel overwhelming! Talk to your Realtor about whether they work with any preferred lenders. If not, you've got a couple of options: Traditional big-bank lenders (think: Bank of America), smaller boutique lenders (sometimes local, some national), and other (wholesale lenders, etc.) Remember, there is a difference between a Mortgage Lender and a Mortgage Broker. The company that actually makes the loan is the Mortgage Lender while someone who works in a "middleman" capacity to find you the best loan rates and specifications is a Mortgage Broker. If you're totally new to the game, a mortgage broker might be a good place to start to get a sense of your options. It's always a good idea to talk to multiple lenders before you decide which to use. Factors to consider:
Interest Rates: These can vary dramatically from lender to lender; sometimes smaller lenders offer more competitive rates to compete against big retail lenders.
"Programs": This is what mortgage lenders call the various types of loans they provide. There are dozens out there including FHA loans, VA loans, ARMs, and more.
Closing Schedule: Lenders will typically be able to tell you how quickly they can help you close. In a hot market like Charlotte, speed is of the essence for many sellers.
Pre-Qualification/Pre-Approval
There's a huge difference between being pre-qualified (good, but not official) vs. being pre-approved (all but official). When a seller sees that you're pre-approved for a certain amount they can feel good that your loan will come through. This can be a definite plus in a hot seller's market. If you know you want to buy a home sometime in the near future, go ahead and get a pre-qualification letter from your lender to get started. If you know you want to buy a house (or even a specific house), tell them you want to start the pre-approval process.
Pre-approval requires a lot of documentation from you. Everything from your credit history to previous loans to your employment status is subject to review, and the more complicated your finances, the more complicated your pre-approval process. Your lender can walk you through exactly what they'll need from you during the process. Once you're pre-approved, you'll receive an official "Pre-Approval Letter" you can share with sellers.
Application & Loan Estimate
Once your offer is accepted by a seller you can officially put in an application for a loan. If you've already been pre-approved, this process shouldn't be that complicated. Once your application is processed and the lender decides to offer you a loan, they'll present you with what's called a Loan Estimate. By law, lenders have to provide you with this 3-page document within three days of your application (if accepted) and it will outline the explicit terms of the loan, from the interest rate to a breakdown of your closing costs. If you accept the Loan Estimate, your loan application moves on to the processing phase where more information is collected by the lender. This process generally takes anywhere from two weeks to two months; it's important that you/your Realtor stay in constant contact with the lender's representative to monitor the progress and ensure the loan is on track to be issued by your set closing date.
What takes place during processing?
A full credit check is performed on you and/or your spouse or co-signers
Any remaining documentation is collected including tax docs, salary information, bank statements, and more
The lender hires an independent/in-house appraiser to do an appraisal of the property you intend to purchase. If the house "appraises" for less than the amount you plan to pay for it, you may not receive the full amount of the loan requested
Closing
Hopefully, you'll get news at least a few days before closing is scheduled from your lender that everything is approved. Congratulations! You've been issued a mortgage. All relevant files will be transferred from your lender to the closing attorney's office and you'll find out exactly how much money you need to bring to closing with you. The document that outlines all the final closing costs is called the Closing Disclosure. At closing, you'll bring a cashier's check, several forms of ID, and check all loan documents carefully. Then you'll sign about 100 documents! Plan to stay for a couple of hours.
Now you own a house! Technically, your lender owns the house and you're making payments towards the property, eventually owning it outright once you pay your mortgage off. It's an exciting - if not draining - process. The good news is, Charlotte has many excellent boutique mortgage lenders and several large retail mortgage lenders, too.