How the Covid-19 Stay at Home requirements in NC affect your ability to buy or sell a home right now.
Posted by Chad Hendrix on Saturday, April 4, 2020 at 9:28 AM
By Chad Hendrix / April 4, 2020
1 Comment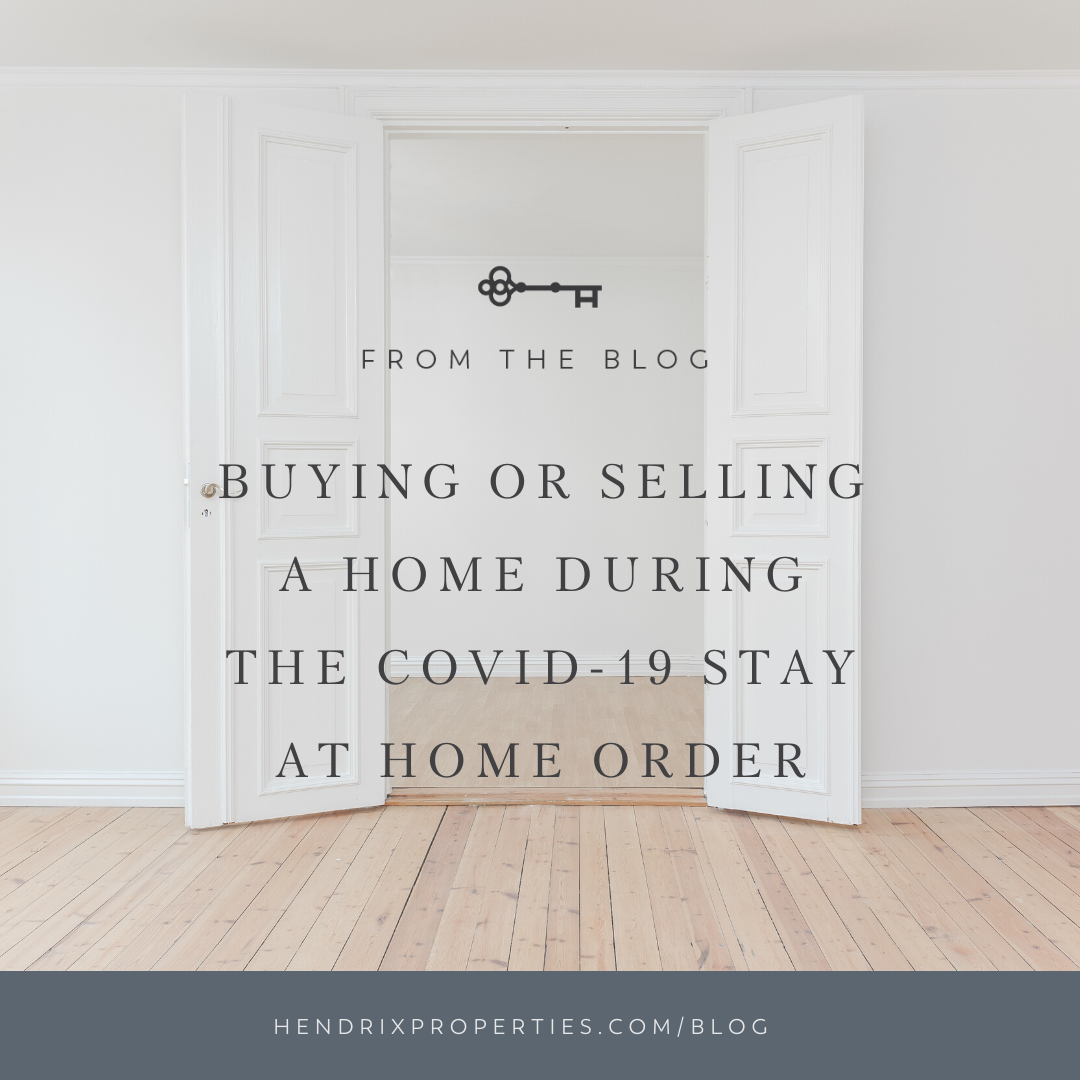 (Update 04/29/20: Mecklenburg County has decided to transition from local to state-mandated stay-at-home orders starting April 30th and remain into effect until May 8th, 2020. Real estate services are now deemed as essential services in Mecklenburg County as long as safety precautions are taken: 6' social distancing, good hand washing hygiene, disinfecting high-touch surfaces, and working remotely as much as possible. Wearing gloves, face coverings or masks, and booties during showings are also highly encouraged).
********************************************************************************
(Original Post 04/04/20) I think we can all agree that the Covid-19 pandemic has thrown us all for a loop in more ways than one. Like you, I don't have all the answers but I can at least talk about how the Covid-19 Stay at Home requirements affect your ability to buy or sell a home in NC. There's a lot of confusion right now even among us NC brokers/real estate agents as we try to interpret information but I'll do my best to answer some of your more frequently asked questions. I'll also include links to the source wherever I can. And please know, I'm not an attorney nor do I intend to sound as though I'm interpreting the law...just informing you the best I can.

Also worth noting is that I'll be primarily answering questions as they pertain to Mecklenburg County (Charlotte and suburbs) and the surrounding counties of Cabarrus, Lincoln, Union, Iredell, Gaston. Other parts of the state 'might' have differing rules and SC might as well but I'd imagine that the common theme here is that we need to try and wait this thing out the best we can and keep others and ourselves safe.
Buying a Home during the NC Stay at Home order
Question

: Can I browse homes for sale online?
Yes. I thought I'd start out with the easiest question first! You can absolutely view homes online and I'd suggest you start either with our advanced search or by going to our Living in Charlotte page which starts to break down some of the areas, each of which have searches set up for the respective pages.
Question

: Can I go view/see homes in person?
The short answer is YES. In the state of NC, real estate is considered to be an essential business. With that being the case, real estate agents and consumers are allowed to participate in all aspects of this. Here's an excerpt from Roy Cooper's executive order: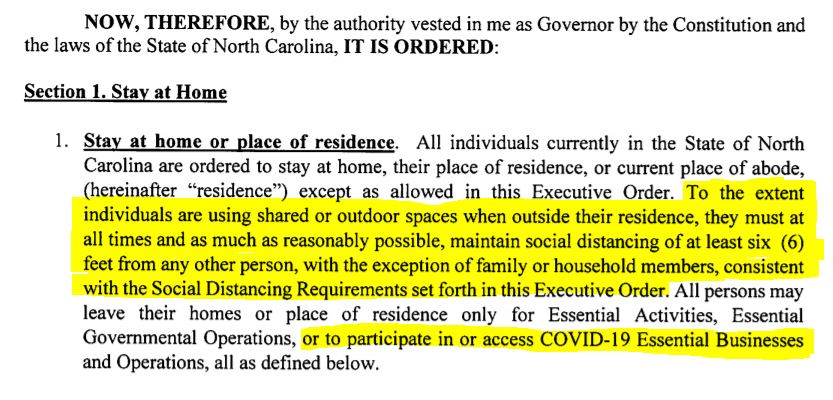 However, In Mecklenburg County, which has the strictest guidelines and guidelines that supersede the NC mandate, you can ONLY view vacant homes, and even then, only under certain conditions. Those conditions are:

To translate, in Mecklenburg County, you need to be in a pretty desperate situation in order to view homes and if so, they can only be vacant. Additionally, you would have to meet the Realtor there (not ride with) and maintain all social distancing requirements.
Question

: Can I purchase/contract on a home right now?
Yes, you can purchase a home. If you're outside of Mecklenburg County you can proceed as you normally would while following the covid-19 distancing/safety guidelines.
If you're looking to purchase IN Mecklenburg County, it gets a little more strict (see question above). If you're purchasing a vacant home, it's certainly easier. But if the home you're interested in is occupied, you'd be limiting yourself to purchasing sight-unseen which has its own challenges. Purchasing sight-unseen doesn't mean that you can never see the home but you'd have to go under contract on it before being able to view it and by then, you may already have some skin in the game in the form of due diligence and earnest money that could be at risk.

If you're not willing to wait this out, my suggestion would be for you to simply contact me and let's talk about your needs and situation and we'll go from there.
Question

: Am I allowed to go to Open Houses or Model Homes?
In Mecklenburg County, open houses will not be allowed from my interpretation. I can't say that there won't be any but I can't imagine any case where they would be allowed. So, the answer is NO.

However, outside of Mecklenburg County, since real estate IS considered an essential business in the surrounding counties and consumers are allowed to participate with essential businesses, you should be able to visit any open houses or model homes that you come across or are open. But, be careful to follow all social distancing guidelines. If you ask me, just stay home.
Question

: What if I was already under contract to purchase a home?
If you are purchasing a home outside Mecklenburg County (Cabarrus, Gaston, Lincoln, Iredell and so on), you would proceed as you normally would while maintaining all social distancing guidelines.

However, if you're under contract on a home IN Mecklenburg County (taken directly from this Mecklenburg County amendments page):
Allowed with Conditions: Those who have vested money (either by way of earnest money or mortgage loan commitments) which they could wind up losing and closing is imminent or soon to be scheduled, in order to complete the purchase and effect the closing, the following guidance should be used when completing that transaction:

Walk-through prior to closing:
No more than three people may be in the residence at any given time. This allows for the realtor and up to two of the buyers.
Each person present must maintain Centers for Disease Control (CDC) compliance at all times in all applicable areas.
Practice social/physical distancing: stay at least six feet apart from other people.
Do not participate if you have any symptoms or fever.
Avoid touching your eyes, nose, and mouth with unwashed hands.
Cover your cough in your sleeve or sneeze with a tissue, then throw the tissue in the trash.
Clean and disinfect any objects or surfaces touched using a regular household cleaning product.
Wash your hands often with soap and water for at least 20 seconds on entering and leaving the dwelling with soap and water or an alcohol-based hand sanitizer that contains 60%-95% alcohol.
The realtor is responsible for supplying cleaning products and hand washing products.
Owners/sellers should not be in the residence at the time if the subject property is owner occupied.
Question

: What do I do in the meantime?
If you're thinking of buying, my best suggestion would be to reach out to me and let's just talk about you and your situation and what you're thinking of doing. The covid-19 pandemic doesn't change the fact that reaching out to me first is always a great first step. There are many ways that I can be of value, from connecting you with a good mortgage lender, helping you narrow your focus in terms of areas or neighborhoods, helping you customize your home search, or just proving to you that you have a reliable source to lean on.
Selling a Home during the NC Stay at Home restrictions
Question

: Can I list my home for sale with a Realtor?
If you're living outside of Mecklenburg County, the answer is YES. But, be sure to proceed by following all social distancing guidelines (and your Realtor as well).

If you're living IN Mecklenburg County, you can list your home and put it on the MLS but it will need to be done using your own photos/videos and whatever information you can provide to your Realtor or prospective buyers. Your Realtor cannot come view your home, stagers cannot come out and neither can house measurers or photographers or media people...unless the home is Vacant. Per the Mecklenburg County Guidelines:
"2) Taking Listings when Sellers have a financial need to move and have no option to "stay-in-place" will be done virtually to the extent possible. If there is a need to visit the home to obtain signatures where the Seller does not have access to electronic technology, the agent may drop documents at the home; leave documents in an agreed upon location and leave the property. Once the Seller retrieves the documents and signs them, they can put them back in the agreed upon location and contact the agent to come pick up the document. The agent may also take a photo of the front of the house for use in putting the listing in the MLS.
3) Selling or renting/leasing property to consumers who are or about to be in a position where they have no option to "stay-in-place" specifically:
Sellers who have sold their home and have not bought or rented a home

Individuals and/or families moving to the County for secured employment and have not bought or rented a home

Tenants who are losing their current residence (due to sale of the property or non-renewal of lease) who need an immediate place to live
4) Measurements by measurement service providers may measure vacant property only. Only one measurement provider may be in the home at one time.
5) Photographers and videographers may provide their services in vacant property only. Only one photographer and/or videographer (if they are different) may be in the home at one time.
6) Sellers of occupied homes that do not currently have a virtual tour or photos of their home will need to create their own virtual tours and/or take additional photos.
7) In-person showings of homes for sale or rentals on the market are restricted to vacant property only. When showing vacant property, the agent shall not ride in the same vehicle as the consumer and no more than three people may be in the residence at any given time. This allows for the realtor and up to two of the buyers."
Question

: Can I have my home professionally measured and photographed?
No. Not unless your home is vacant. However, you can take your own photographs or measurements and submit electronically to your Realtor who can then use them to market your home. Your Realtor CAN, however, swing by and take a picture of the outside of your home.
Question

: What if my home was already under contract before the restrictions?
If your buyer has money vested in the home purchase (due diligence, earnest monies, other fees associated with the purchase of the home), they are allowed to visit the home but are limited to doing so on the final walk through.
Question

: What can or should I be doing in the meantime?
If you have not listed your home but have been thinking about it either before or during this crisis, reach out to me. There are various things we can help you with. Here are a few:
We can provide you with a handy checklist of things that inspectors look for so that you can be working on them in preparation of eventually listing your home for sale
We can do a Zoom meeting (video conferencing similar to facetime or others) and give you some staging tips and advice. We also have our award winning home stager on standby to do the same for a small fee but with a much more organized approach.
We can get you set up on a market report for your neighborhood or area so that you can stay on top of what the market is doing around you.
We can simply converse over the phone or via Zoom and go over our marketing strategy, talk about YOU, answer any questions you have, etc.

Bottom line is this...don't be afraid to reach out. It's never too early and it's never a bad time to connect with me/us. We're truly here to help and want to achieve the best results for YOU.
I hope my question and answer article has answered some of your questions. If you have others, please ask them in the comments section below or contact me directly. I'll answer you back and will likely amend this article as needed as well.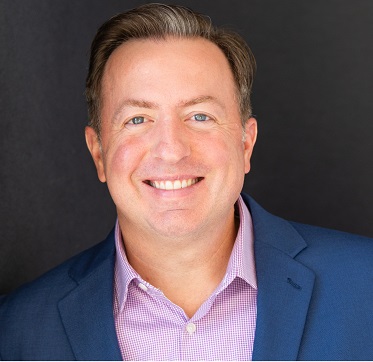 Thanks for reading!! I'm Chad Hendrix, owner of Hendrix Properties and you can call/text me at 704-737-4400 or Click here to send me an email: chad@hendrixproperties.com