Charlotte's 7 Most Walk-able Neighborhoods
Posted by Chad Hendrix on Monday, May 23, 2016 at 2:10 PM
By Chad Hendrix / May 23, 2016
Comment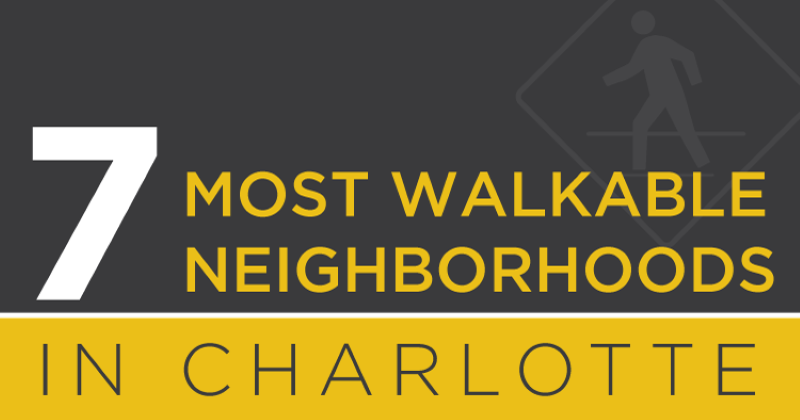 Did you know Charlotte's been named the "least walkable city in America?"
Hard to believe when you're driving around on a beautiful April Saturday dodging joggers and people with dogs and small kids on bikes, right? The good news is, the city's made huge strides in the last few years to become more pedestrian friendly, from greenways to people crossings. Study after study says homebuyers - millennials, in particular – really value a walkable living location when they're looking to purchase a home. That's why we've put together a list of Charlotte's seven most walkable neighborhoods:
1. Uptown
Sure, you could divide this into "First Ward" and "Fourth Ward" and so on, but in reality, it's easy enough to walk from one end of Uptown to another. Uptown's obviously the center of activity in Charlotte and living here provides easy commutes for thousands of bankers and professionals each day. On one street you'll find a pub, a bakery, and a multinational corporation…what's more walkable than that?
2. Plaza Midwood
Plaza Midwood is one of Charlotte's hippest 'hoods, and for good reason. Its streets are lined with cute craftsman-style and renovated bungalows, and there's a real feeling of community here. Central Avenue marks the center of the PM business district and is chock full of some of the city's best restaurants and nightlife. New apartment buildings popping up mean even more density, soon.
3. Cherry
Haven't heard of Cherry yet? It's a teeny, tiny neighborhood nestled between Myers Park, Midtown, and Elizabeth and it's one of the most historical in Charlotte. Cherry's facing rapid development from big builders and flippers alike, but many homes here still retain their old-school charm. The neighborhood's location means you can commute by foot to Uptown, walk to the Greenway, or even to all the shops and eateries at Midtown like Target and Vivace.
4. NoDa
If you're looking for funk, NoDa ("North of Davidson") has it. Between several art galleries, music venues, and as many cool restaurants as you can shake a stick at, NoDa's where all the cool kids in Charlotte live. Throw in proximity to uptown and soon-to-be access to the LYNX light rail system and it's no wonder NoDa's growth is exploding.
5. South End
This one's debatable, but all the new density in South End over the last few years makes it one of the most navigable hoods in town. Although South Blvd. itself isn't exactly "pedestrian friendly," you can live in Southend and walk to dozens of restaurants, boutiques, and even the light rail. If you're feeling extra spry, you can walk to Uptown, too.
6. Dilworth
Dilworth is about as picturesque as it gets, but it's getting pricy! Who doesn't love strolling down East Blvd. to one of the many restaurants, shops, and grocery stores, though? Dilworth is Charlotte's first "streetcar suburb" and though there's no longer a streetcar there, residents still get around by foot just fine.
7. Elizabeth
The Elizabeth neighborhood is anchored by Novant Health (formerly Presbyterian Hospital) which means tons of retail and dining nearby. The neighborhood itself has several long streets full of carefully restored homes as well as plenty of sidewalks for pedestrians, too. Oh, and if you need your neighborhood to have a dog bar? Elizabeth does.


Did we get it right? Tell us what YOU think are Charlotte's most walkable neighborhoods in the comments or on our Facebook page. We want to know what makes you want to live where you do!