Eight Real Estate Myths Debunked
Posted by Chad Hendrix on Sunday, August 27, 2017 at 5:45 PM
By Chad Hendrix / August 27, 2017
Comment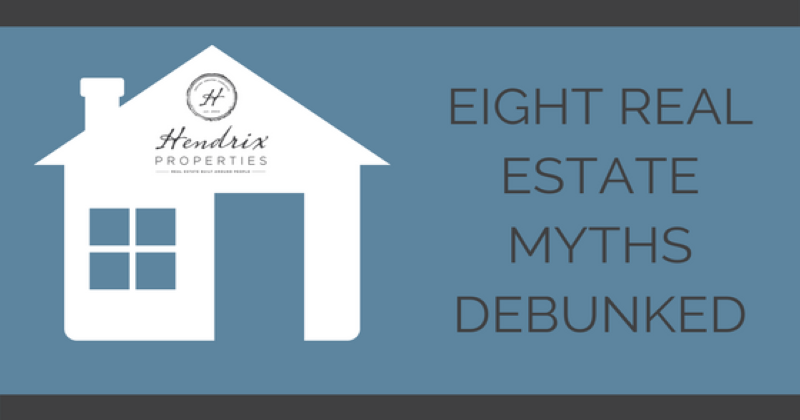 If you are in the market to sell or buy a property, you may have some incorrect misconceptions. We decided to debunk some real estate myths that may be impacting your search. Consider these as guidelines for buying and selling.
Myth One: Listing your home for more than what you expect to receive will net you the price you want.
This is often considered "room to negotiate". But it's a mistake you don't want to make. Listing too high may actually net you a lower price. Why? Because buyers and agents often won't even look at homes priced about market value. You always have the option to reduce the price after a few weeks, but that's not a situation you want to be caught in. A price reduction can signal to buyers that there are problems. Even in a low inventory market that we are currently experiencing, you are more likely to get multiple offers if your property is priced at value or below.
Myth Two: You can get a better deal as a buyer without working with an agent.
This is completely false. If the house is listed for sale with an agent, the total sales commission is built into the price. If a seller doesn't have an agent then the seller's agent receives the entire commission. Read more on why you should work with a buyer's agent.
Myth Three: You can save money selling your home as for sale by owner.
Some sellers may be able to successfully sell their home on their own; however, they need the skills to get it listed online, market it, negotiate and deal with any challenges related to the inspection or financing. Is that a job you're willing to take on? You may also find that buyers will expect a discount if no agent is involved. There are many reasons not to venture into For Sale by Owner territory. You won't be able to list on the MLS, and you'll spend lots of time and effort going through hoops. Here's some more on reasons not to go it alone when listing your property.
Myth Four: The market only goes up.
Yes, we're in a good market right now. In the last 12 months, the average selling price in the Charlotte Metro area was up $21,000. But that doesn't mean your property value will keep climbing. Economist Robert Shiller created an inflation-adjusted index for home prices dating to 1890 and found that home prices have fallen a number of times over the years, including in the early 1990s, the early 1980s and the mid-1970s.
Myth Five: You must renovate your kitchen and bathrooms before you list.
It's been said that kitchens and bathrooms sell houses. But, not everyone is going to have your taste. If your kitchen and bathroom work and function then a big remodel could flop. If your kitchen and bathrooms are dated then consider this in the listing price. Most buyers would rather create their own dream kitchen and bathrooms than have yours.
Myth Six: You'll earn back all your renovation investments.
This myth is perpetuated by HGTV shows like "Love It or List It" where homeowners are handed a magic valuation at the end of the show, which calculates the new higher value of their property after renovations. If you need a new HVAC or roof then making these renovations could help your property sell quicker but not necessarily for more.
In the 2017 Cost vs. Value Report by Remodeling Magazine, they found that projects involving remodeling something to make it better has an average payback of 63.7 percent. Whereas, projects that include a complete replacement provide a 74 percent return.
Myth Seven: A home doesn't need to be prepared to sell.
This can be a costly misconception. Properly preparing a home for sale can be the difference between it selling quickly or sitting on the market. So why is preparation important? It's how your home is introduced to the market. You'll want to stage it and have it professionally photographed. These are critical steps shown to increase the final price. If you prepare your home for sale then it should sell quickly and not linger on the market. Even the most beautiful, high-end homes still benefit from staging and professional photos. Staging and photos create an experience for your prospective buyer to see themselves living in the home. They don't want to see your home; they want to envision their life in the space.
Myth Eight: Swimming pools add value to your property.
While pools are quite an investment and certainly provide homeowners with a great amenity, the reality is they don't really add value to a home. Many buyers will automatically discount a property with a pool because of the danger, upkeep expense, and insurance costs.
An in-ground pool can cost from $30,000 to more than $100,000 to install in addition to yearly maintenance expenses. That's a significant amount of money that might never be recouped. If you are considering a pool then just know that it may be something you and your family will enjoy, but that it probably won't add value to your property.
We hope you enjoyed this blog and learned something relating to real estate myths.
Phone(704) 737-4400

Address Hendrix Properties
213726
3540 Toringdon Way Ste. 200
Charlotte, NC 28277