Everything You Need to Know About HOAs
Posted by Chad Hendrix on Tuesday, June 6, 2017 at 4:39 PM
By Chad Hendrix / June 6, 2017
Comment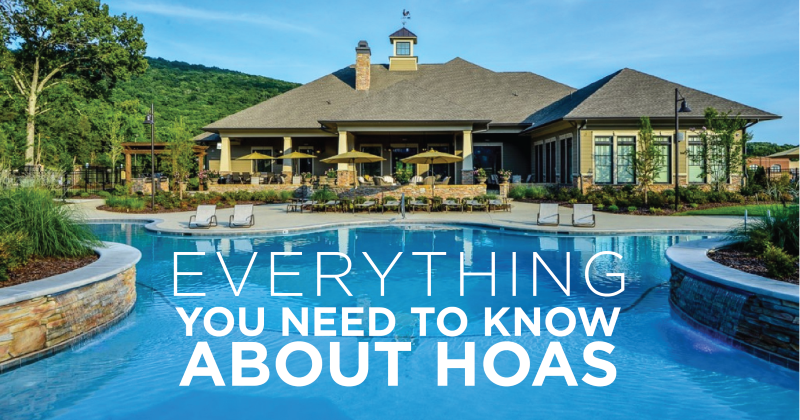 HOAs are an increasingly common fact of real estate.
HOA stands for "Home Owner's Association." The term is often used as shorthand to describe the monthly/annual dues paid to said association (i.e. "The HOAs at this place are high!") Many developments in and around Charlotte are HOA-governed.
What are HOAs, Exactly?
Great question! HOAs are usually formed when a developer builds a multi-family residential property neighborhood. This kind of "property" can manifest in several ways: A condo building; a townhome complex; and even a planned neighborhood of single family homes. The Home Owner's Association (specifically, the HOA bylaws, a lengthy set of provisions for the community) provides structure to the community, outlining rules and regulations as well as a financial strategy for maintaining common spaces like pools and even roads. Typically, a development company will retain control over a community's maintenance and management until enough units/homes are sold and then transfer control to the HOA.
What Do HOAs Do?
They do a lot of things, all (ideally) in the best interest of the greater community good.
CC&Rs: This stands for "Covenants, Conditions, and Restrictions." It's a set of rules enforced by the HOA that govern the community. They can dictate everything from the paint color on your home's exterior to your ability to renovate. They can even specify whether you can park an RV in your driveway or how many pets you can own in your property.
HOA Budget: The budget, funded by your HOA dues (more on that in a minute), is designed to cover everything commonly used by the community. If you live in a multi-family building, things like utility bills for the hallways, elevator service, and landscaping might be covered by dues. If you live in neighborhood or townhome community, your dues might cover a security gate, a resident-only pool, or dog clean-up stations. All this is outline in the HOA's bylaws.
HOA Board: All HOAs are governed by an elected board. The bylaws dictate how and when elections take place, but the board is ultimately responsible for making decisions for the future of the HOA. The board likely has its own private meetings outside of regular community-wide meetings. Unpaid board members, almost always residents of the community themselves, do the legwork of sourcing new vendors (i.e. a new maintenance staff), budgeting for the current year and the future, and enforcing community rules (like evictions, notices, and warnings.) The board has no legal power over residents in a community, but when residents defy the rules they can be taken to court or evicted.
What About Those Dues?
Dues make or break a successful HOA. The amount you might pay towards dues – typically monthly – varies widely. In a Charlotte townhome complex, for example, your dues might be $348 a month. In a Manhattan high rise, your dues could be $1,440 a month! It all depends on the building and needs of the community. Your dues cover all current maintenance and, crucially, contribute to a rainy-day fund known as "reserves."
Reserves are literally reserved money. In many cases, HOAs will hire an outside accountant to perform a "reserve study" to determine exactly how much money should be in the fund to cover all feasible repairs for decades to come. The reserve fund likely has several hundred of thousand or even millions of dollars in it at any given time.
When you buy in an HOA development, you'll ask what the dues are currently. It's impossible to know if the dues will go up in the near future, but there are a few red flags to look for. For example, if the reserve fund is low (ask!) and a major repair is needed, owners might face an unexpected "special assessment" of hundreds or even thousands of dollars. If there are a lot of vacant or unsold units in the development, ask whether those units are still funding their dues. Over time, nearly all HOA dues will go up to keep up with inflation.
Why Buy in an HOA?
For most people, HOAs are a blessing and a curse. The rules and regulations surrounding them can protect homeowners from noisy neighbors or giant McMansion additions, but they can also feel restrictive. While dues are often a tough pill to swallow on top of a mortgage (in most cases, they're rolled into the mortgage), they provide for common amenities like fire pits, covered parking, and pools that many homeowners wouldn't be able to afford on their own.
It's important when buying in an HOA community to know exactly what you're getting yourself into. Your realtor should ask the seller's agent for the management company's information; from there, you can obtain a copy of the CC&Rs to read, hopefully find out more about reserves and dues, and even learn whether the HOA is involved in a lawsuit or if there are any pending assessments being levied on residents.