The Home Buying Process - 6 simple steps
Posted by Chad Hendrix on Wednesday, March 29, 2023 at 9:00 AM
By Chad Hendrix / March 29, 2023
Comment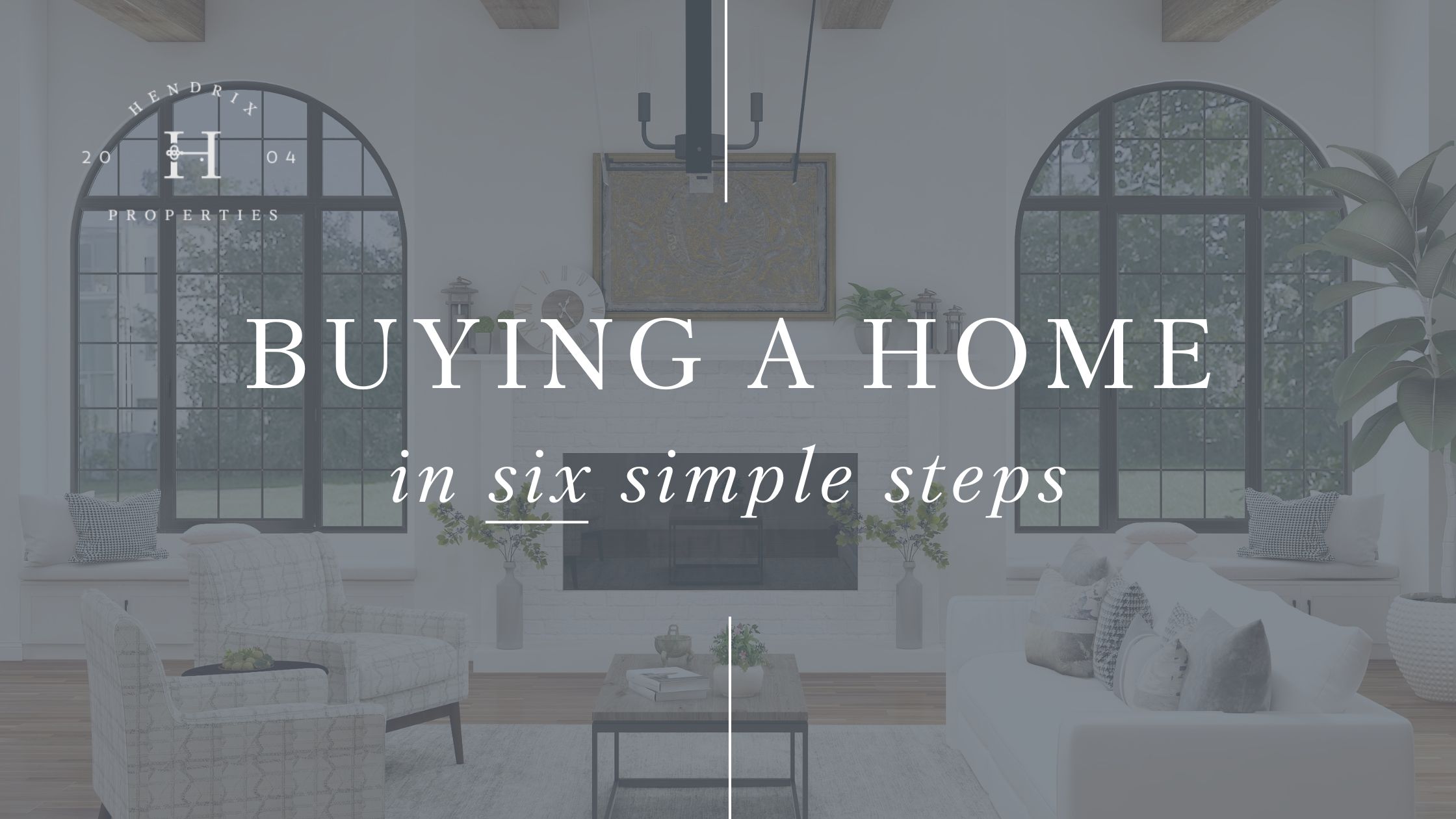 The 6-step home-buying process in Charlotte, NC
Buying a home in Charlotte can be overwhelming. If you are new to the area or if it's your first purchase, there's a lot to know. To this day, I remember my first home purchase in 1996 as if it were yesterday. Though there were a few bumps in the road, what I remember most was my lack of understanding of the whole process as it was going on. I'm someone who likes to have control over things and that was more than a little uncomfortable for me. So, years later and now that I'm a REALTOR®, I try hard to educate the consumer, especially my own clients.
While you'll find lots of articles about this topic, I wanted to write one that's (hopefully) easier to digest. So here are the simplified steps to buying a home in Charlotte.
1. Find a local and trusted Realtor
A licensed REALTOR®, acting as your buyer's agent, will be your best friend during your home-buying process. Not only do they have a fiduciary responsibility to protect you and your best interests, they understand the process from beginning to end and can connect you with the best mortgage providers, attorneys, inspectors, and so on. Your buyer's agent is your lifeline during the process and will hold your hand all the way through so getting one early on is the best way to go. If you don't already know a good Realtor, let us help you find one. Most articles you read will tell you that the next step (getting pre-approved) is actually the first thing you need to do but if you know a good Realtor, chances are that they already know an excellent lender.
2. Get Pre-Approved
The mortgage pre-approval process involves connecting with a mortgage person or your bank and allowing them to review your credit, work history, job situation, debt-to-income ratios, etc, and evaluate your ability to qualify for a home loan. If you can't qualify for a mortgage or currently afford to make an all-cash offer there really isn't any sense in continuing your home search until you're financially ready.
3. Search for Homes!
Now that you're pre-approved for a mortgage, know how much you can afford, and are comfortable spending, it's time for the real excitement...finding a home! Some of the main considerations in your home search should include location, proximity to work, area amenities, size and style, schools, etc. Speak with your Realtor about this as well and allow them to give you some insight into all of these important factors. Once you and your Realtor have come up with a good "shopping list," so to speak, it's time to go view some homes in person. And don't worry, your buyer's agent will schedule appointments. Each home you go through will be a learning experience so don't rush the process. You'll start to notice things you do or don't like in a home, will be sharing your feedback with your Realtor, and will eventually "just know" when you've found the right home.
4. Make an Offer
So, you've found the home that you'd like to live in, have been pre-approved for a mortgage, and have a great Realtor representing you. It's time to make an Offer to Purchase and negotiate terms. An Offer to Purchase is just that...it's an offer to a seller with specific terms in a legal document to purchase their home. Besides the 16 pages of legal jargon, the contract includes various negotiable items such as price, earnest money and due diligence fees, and dates. The seller can accept your offer, reject it, make a counteroffer, or simply not respond. Now, prior to making an offer, you'll want to have a good idea of what the home is really worth. Your Realtor will help you with this part by studying comparable sold properties and using their knowledge of the area to help come up with what they feel is a "good, fair, price" (as I like to phrase it).
5. Do your Due Diligence
Congratulations, you're now under contract! But the work isn't over; and as a matter of fact, it's just beginning. In order to complete your purchase, there are several things that need to be done:
Consult with your chosen mortgage person, provide them a copy of the contract, and pretty much do whatever they ask of you
Schedule closing (your Realtor likely knows a good real estate attorney and can arrange this part for you)
Schedule inspections (ask your Realtor to explain the various types of inspections you should consider) and later deal with negotiating over necessary repairs pending the results of the inspection(s).
Schedule a survey (if desired or required by the mortgage provider)
Arrange movers
Obtain homeowners insurance
Line up utilities
Verify that the Closing statement is correct and make any final changes
Complete a final walk-through of the property
6. Close on your New Home!
Here you are 30-60 days later and the closing date has arrived. You're in the attorney's office with your Realtor, feeling excited and maybe a little nervous at the same time, and it's time to sign the papers. Your closing will take about 30-60 minutes typically. After that, you'll just need to wait for the deed to 'record' so that it to be official. There's a good chance that you won't be allowed to have the keys until the deed records so you'll want to account for that when scheduling the movers. Congratulations on being a new homeowner!!

My goal in this article was not to explain all the nuances involved in the home-buying process - there are many! - but instead, break it down into something a little more manageable and easier to grasp. Let your Realtor/Buyer's Agent focus on all the little details so you can focus on finding the perfect home. If you're thinking about making a move, contact me. I'd like to get to know you a little bit, find out what you're looking for, and help you in any way that I can. You can read what some of my past buyers have had to say here.

Ready for a NO-pressure discussion about your needs? Reach out to us for a friendly and helpful conversation.