Home Selling Frequently Asked Questions (FAQs)
Posted by Chad Hendrix on Wednesday, November 3, 2021 at 11:35 AM
By Chad Hendrix / November 3, 2021
Comment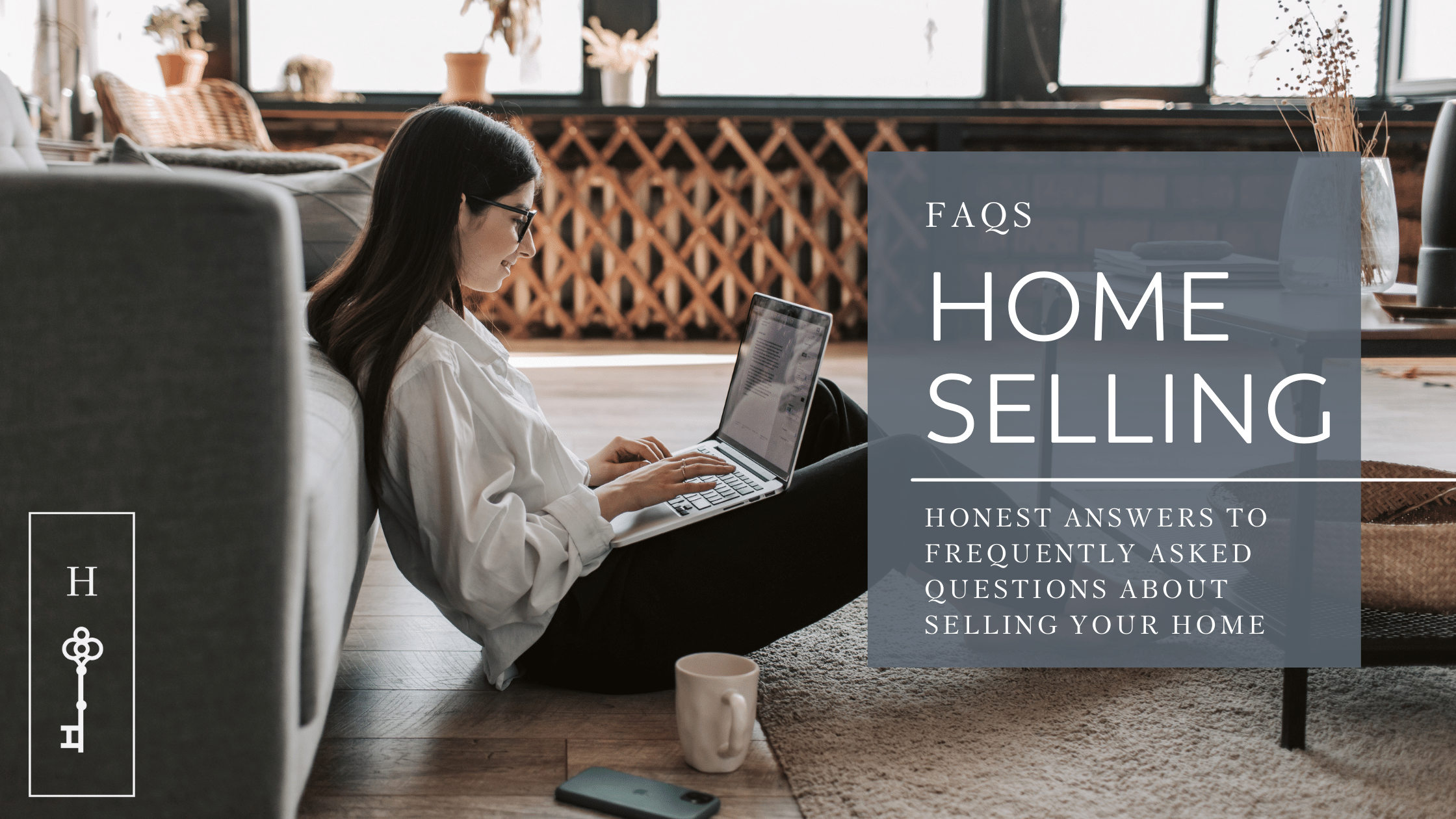 Over the past 22+ years, I have been asked all sorts of questions from homeowners about selling their homes. With so much misinformation in advertising and the ever-changing real estate business models, I thought it would be helpful to share my thoughts in this informative, easy-to-read Q&A article. My goal is to provide homeowners like you with candid answers to the most commonly asked questions about the home-selling process. Please let me know if you have other questions that I haven't addressed and I'll be sure to update our article in the future.
Jump To Sections: FSBO vs. Listing with a Realtor | Pricing | Timing the Sale | Preparation | Marketing | Showing Your Home | Commissions/Fees | Choosing the Right Listing Agent
[Click here for your Free Home Value Estimate]
FSBO ("for sale by owner") vs Listing with a Realtor
Q: Will I save money selling my home without a real estate agent?
A: It's possible. If you already have an unrepresented buyer lined up (one who is not already working with a real estate buyers agent) and they are in agreement with the terms you've proposed, you may be able to save some money selling it yourself. However, this is rare. In most cases, the staging and marketing abilities of an experienced listing agent can help you achieve far greater results than you would on your own. Not only can a great listing agent help you sell your home for more money but can also attract more activity, more qualified buyers, and stronger overall terms. Listing your home with an experienced Realtor can also help you prevent or easily navigate issues that may arise once the home is under contract. Trying to do this on your own could be detrimental to the contract you have in place if you are not fully educated on the process and legalities.
Q: Can I still list my home on the MLS even when selling FSBO "For Sale By Owner"?
A: Only licensed Realtors can put listings on the MLS but you can achieve this by contracting with a 'discount broker'. A discount or 'limited service' broker can list your home on the MLS for a flat fee and will classify your listing as limited-service instead of full-service. In doing so, you would still need to offer some compensation to a buyer's agent and you would still pay a non-refundable fee to the discount broker. The big downside to you as the seller is that you'd be unrepresented and have no one working for your best interests. Remember, the buyer's agent is contractually obligated to protect their client and serve their best interests, not yours. Another potential downside is that the buyer's agent would be instructed to work directly with you, the seller, instead of having an experienced professional (listing agent) on the other side of the transaction. Frankly, I've never seen this as being a positive approach for any seller.
Q: What are the benefits of listing my home with a full-service Realtor?
A. A great listing agent will help you prepare and even help stage your home (if necessary). They'll also likely hire a professional photographer or videographer so that your home is showcased in its best light. They will help market your home in various ways whether it be through postal mailings, single property websites, social media advertising, and most importantly, via the MLS. Once listed on the MLS, your home's listing will be distributed to almost every online real estate portal out there. An experienced Realtor will properly guide you through all of the listing paperwork, and seller disclosures and offer you advice on pricing your home strategically (to receive the most interest while maximizing your profit). And that's just the beginning. Once there is interest in your home, your listing agent will help you negotiate the best offer and terms and assist with all of the contracts and paperwork. They will help guide you through the inspection and appraisal process and work with both the closing attorney and buyer's agent to get past any difficulties or roadblocks so that you actually make it to the closing table. There can be a big difference from one Realtor to the next but if you work with a reputable one, they are well worth their commission and much more.
Q: What is an iBuyer?
A: An iBuyer is a company that uses technology to make an offer on your home, often through an automated valuation process. The big players are Opendoor, Offerpad, Zillow Offers, Knock, and Redfin. They seem attractive on the outside because they skip right over the whole listing process and deal directly with you to purchase your home. This can work nicely in a situation where you need to purchase another home but need to sell yours first or if your home needs a good bit of work that you don't want to deal with. The downsides are that they are in the business to make a profit and will typically offer you much less than your home is truly worth. They still charge you commissions and most often charge for unexpected repair fees. I don't think it's a bad idea to check with one of these companies but I would highly encourage you to consult with a qualified and experienced listing agent prior to making a decision, especially if more money in your pocket is important to you.
Pricing Your Home
Q: How do I determine the value of my home?
A: With residential real estate (homes/townhomes/condos), buyers will actually determine the value of your home. This so-called "market value" is what the buying public is willing to pay for your home based on many factors such as the current market conditions, supply & demand, comparable home sales, size, location, condition, and home improvements. As a homeowner, you can increase the desirability and potential for a higher sales price through better home preparation and the marketing/exposure of your listing.
Q: How do I choose the best list price for my home?
A: You can estimate a good list price by taking into account what other similar homes in your neighborhood or surrounding areas are selling for and then comparing things such as price per square foot, condition, location, improvements and upgrades, and other factors such as the current market. An experienced Realtor can help counsel you on this as well as supply you with a CMA (comparative market analysis) to help you make the best decision.
Q: If I price my home higher, will I get more for it?
A: Pricing your home with a little buffer room is quite common but simply pricing it higher than it should be (in hopes of getting higher offers) can actually backfire. Overpricing your home could result in fewer home showings and extended days on the market. More days on the market (especially in a seller's market) could cause buyers to question if there is something wrong with your home. Another problem with overpricing your home is that you may go over the max threshold for some buyers that would have shown interest had you been priced correctly. Our opinion is that you will likely receive a better price when you price it reasonably from the very beginning and then allow the market (buyers) to drive the price up. There is a strategy to this that shouldn't be taken lightly.
Q: Are Zestimates and other online home valuation tools accurate?
A: Well, they can be but in no way should these be relied on to be 100% accurate. The estimates from Zillow or sites like ours are automated valuations based on tax records and sales data from the MLS. They don't take into account such things as location, condition of the home, upgrades, recent home improvements, etc. An experienced Realtor can help properly evaluate your home and prepare a current CMA (comparative market analysis) based on all of these factors.
Q: Is Market Value, Appraised Value, and Tax Value the same?
A: "Market Value" is the price a home buyer is willing to pay for your home. A professional appraiser can determine the "appraised value" which may or may not correspond with the market value. Lenders typically use the appraised value when determining the LTV (loan to value) ratio during the mortgage process. "Tax value" is the value that the city or county tax assessors place on your home for tax purposes. This value can stay in place for as long as 8 years (in NC) while the market value can fluctuate. Tax value is typically lower than market value, sometimes by 20% or more.
Timing the Sale of Your Home
Q: How soon before wanting to sell, should I have a Realtor out?
A: If you're even contemplating a sale, I would suggest having an experienced Realtor come out as soon as possible even if you're not planning on selling for months. Not only is this a good chance to meet/interview your possible future listing agent but it also gives you plenty of time to be working on any suggested repairs, improvements, and decluttering you'll want to do before listing. A top-notch listing agent can spot even the smallest things that may make a big impact on the way your home shows and feels to prospective buyers.
Q: How long does it take to get my home ready for the market?
A: 2 to 3 weeks is a good, safe estimate assuming that your home is almost ready to go. To properly list a home, we usually need a couple of weeks so that we can line up our home stager, photographer & videographer, design the printed & digital marketing pieces, have professional home measurements made, complete the listing paperwork, etc. An extra week will give us a little buffer room to make sure that things are done just right. A couple of weeks may seem like a long time but what you don't want to do is rush to get your home on the market before it's 100% ready, as it could end up costing you more than just time.
Q: How long does it take to sell my home?
A: In this current seller's market, we can usually get your home under contract within the first weekend or week it's on the market. There are clearly some variables here such as whether or not you've taken our advice with preparation and proper pricing, whether or not there are factors that we can't control (environmental factors, noise from a busy road, power lines behind the home, location, etc), and the current market that you are selling in. There are always home buyers out there and we most definitely have the skills to make your home stand out from the competition. When the right things are put into place, you can usually expect positive results rather quickly.
Q: When is the best time to sell my home?
A: You'll often hear that spring is the best time to list your home. Spring is typically the start of the selling season and buyers become much more active. Others may say it's best to list in the summer, before the start of the new school year. Truth is, there are ALWAYS buyers out there regardless of the time of year. If you're thinking of listing in the spring or summer, there will be more competition in the market. If you waited later in the year to list, your results could be just as good, if not better, because there is typically less inventory. In a nutshell, the best time to sell is when it's right for YOU. We will help your home stand out no matter the time of year.
Preparing Your Home
Q: What can I do now to prepare my home for sale later?
A: Ideally, go ahead and have us out for a visit so that we can walk through your home with you and give you customized suggestions (remember, you can't do this too soon). But, if you're not ready for that yet, I would do the following: De-clutter as much as possible; Sell or donate furniture or possessions that you won't need going forward; Pack up items you don't need now and neatly stack boxes in the garage or store offsite at a storage facility or in a POD delivered to your residence; Repaint, if needed, to freshen up the space or neutralize strong paint colors; Make any necessary repairs to the interior or exterior; Spruce up the landscaping (pruning, aerating, and seeding, adding mulch, etc). This would be a heck of a start and something that you can be working on months in advance.
Q: Won't my home sell anyway, regardless of whether or not I put much effort into preparing it?
A: This is a common question and I can tell by many of the homes I see on the MLS that many homeowners (and real estate agents) seem to live by this presumption. However, there's also the saying "If you're going to do something, do it well" and this is exactly how we like to work. We know for a fact that even the smallest things can make a big difference. This can amount to more money in your pocket and stronger, more qualified buyers. We don't just pop your home on the MLS and hope for the best. We put extra time and effort into your listing to ensure we get you the best results possible...the best price, the most buyers, the strongest terms, and the best overall experience.
Q: Should I get my home pre-inspected prior to putting it on the market?
A: It depends. In theory, it's a great idea for both parties. Having your home inspected prior to listing will give you time to make the necessary repairs that will likely be found during a buyer's inspection period. Some home sellers also like the peace of mind they have knowing there (likely) won't be any big surprises that arise that could be detrimental to the transaction. Just remember, should you decide to have your home pre-inspected, you'll want to be prepared to either remedy those items before listing or disclose them to future buyers (as those issues would then become 'material facts'). Now, if your home is fairly new, in good condition and you've been doing preventative maintenance on your home, it's probably okay to just wait for the buyers to do their own inspection and then take things from there. We can advise on what we feel would be best in your situation once we see your home.
Q: Will my home show better vacant or furnished?
A: There's no question about it, staged homes show better, sell faster, and for more money than vacant homes, period. Staging will make your home stand out in photos, make it feel much more appealing in person, allow potential buyers to better visualize themselves living there, and will ultimately get you a better price and better terms for your home. With that being said, not every room in your home needs to be staged. In some cases, vignette staging (light staging and accessorizing) may be enough. In other cases, bringing in furniture for the more prominent areas (kitchen, living room, dining room, owner's bedroom, office & outdoor spaces) will work best. We will typically provide (at our cost) a complimentary home staging consultation by our award-winning home stager to determine what the best approach is for you. Included in this consultation is a written step-by-step document that details what you can do on your own too. We've personally seen some of our sellers walk away with thousands (and for some, tens of thousands) of dollars more compared to other similar homes that were not staged. The decision to stage your home (fully or partially) should not be taken lightly.
Marketing Your Home
Q: What is the MLS?
A: The MLS, or Multiple Listing Service, is the main database that houses information for the majority of all homes for sale by cooperating real estate brokers (member participants). It was originally founded over 100 years ago, long before computers and internet technology were around as a way to exchange and share listing information to brokers outside of one's own personal network. Even as recently as 1999 when I became a Realtor, listing data was kept in-house, often in notebooks and the only way to get exposure was through signage, open houses, phone calls, flyers, or direct mail (thank goodness technology has evolved!). Because of the establishment of the MLS, smaller brokerages are able to fairly compete with larger brokerages since all homes for sale are listed in one central location. Note, a listing broker must make offers of compensation to all cooperating brokers on the MLS.
Q: What real estate websites will my home be on?
A: Once your home goes on the MLS, the listing will be syndicated and distributed to nearly every local real estate website (such as ours) as well as popular national portals including realtor dot com, Trulia, and Zillow. So, as long as you list your home with a licensed Realtor (and if you agree to public marketing via your listing agreement), your home will be displayed openly to the public along with every other MLS listing.
Q: Is professional photography important?
A: This is a big YES! With that being said, it's important that your Realtor has a relationship with a great photographer, not just someone with a nice camera. There's no regulation on whether or not someone can call themselves a 'professional photographer' so your Realtor should have a relationship with a proven photographer that understands proper lighting, angles, how to get the right shot, has good editing skills, etc. We've worked with several great ones over the years and only work with the ones that we feel will showcase your home in the best possible light.
Q: What are your thoughts on Open Houses?
A: My answer here may ruffle some feathers but frankly, home buyers are not sitting around waiting for Open Houses in order to find their dream home. Buyers may visit an open house if they come across one or may even seek them out, but open houses are no more effective than sending out flyers for actually getting your home sold. Homebuyers today have access to every home on the market right at their fingertips: smartphones, tablets, and desktop computers or via their buyer's agent. Another thing to note is that some agents like to hold open houses as a tool for attracting new buyer clients or neighbors. The big downside to open houses in my book is that you can have unattended, unqualified strangers walking around your home (and possibly going through your valuables) because the agent on duty can not be with everyone at one time. Open houses can also be a major safety concern for the agent in some cases, especially if they are alone. A "brokers open", on the other hand, makes more sense as it's basically an open house for other real estate brokers. Most of the time your home will sell because it's listed on the MLS and other forms of marketing, not because of an open house.
Showing your Home
Q: What steps should I take to get my home ready for upcoming showings?
A: When you have a showing, make sure your home looks clean, neat & decluttered as much as possible. Turn on all of the lights and ceiling fans, open blinds and curtains, and put on some soft music. It's a good idea to remove pet items, make the beds and maybe do a light cleaning. Buyers will often open up your closets, cabinets, pantry & fridge too. Another thing we recommend to our sellers is to lock up or remove any valuables and secure important documents in the home. Although buyers will have their agent with them, they can't always be with them 100% of the time. For those of you with home surveillance equipment like cameras, nanny cams, and Ring doorbells, please make sure you turn OFF the audio before you leave. Sellers are not allowed to listen in on conversations with other parties without their consent.
Q: Should I be present when my home is being shown?
A: My short answer is, No. While you may be one of the nicest, most charming people ever, home buyers and their agents want and need their own private space to freely and openly discuss your home and their feelings. This is another reason we don't allow overlapping showings on our listings. Buyers are making a huge decision and usually only have a short window of time to view your home. It's best to give them their space.
Q: Are the prospective buyers coming through my home pre-approved?
A: No, not all of them. Anyone coming through your home will certainly be accompanied by a licensed real estate agent but there's no guarantee that the agent has a contractual relationship with the buyer yet and there's no guarantee that the buyer has been pre-qualified. However, there's an unwritten expectation that the real estate broker has at least researched the buyer prior to showing the home and performed some type of due diligence on them. As the homeowner, you can most certainly ask your listing agent to require proof of funds or a pre-qualification letter from the buyer's agent upfront, but you may risk losing a legitimate buyer that may have made a last-minute trip to the area, wasn't prepared with proof of financing or didn't fully understand the process.
Real Estate Commissions/Fees
Q: How much do Realtors charge to sell my home?
A: If you're going with a full-service real estate brokerage (which you absolutely should), you can typically expect to pay somewhere in the 5-6% of purchase price range which usually covers the cost of paying both the listing firm and the buyer agent firm. Now, it's important for you to know that there is no standard commission rate or percentage. Real Estate commissions are negotiable from firm to firm and are NOT set industry-wide. With that being said, 5-6% is what I see the most often. You'll want to ask the listing agent what's included in that fee and whether it includes marketing expenses like staging, photography/media, print materials, mailings, video, 3-D floor plans, broker's open events, etc., or just their representation. And please understand that your individual agent is not making the entire commission. Your agent only receives a percentage of the company's commission (the listing contractually belongs to the brokerage, not the agent) and then usually pays for all or most of marketing expenses, taxes, etc. out of their own pocket. In the end, a good agent earns their commission and then some.
Q: Are real estate commissions or fees negotiable?
A: Yes, commissions are negotiable. While any individual firm or Realtor may or may not negotiate what they charge, fees and commissions are negotiable from an industry perspective. Trust me when I tell you that you should focus more on what the listing agent will actually do for you rather than putting all of your emphasis on saving half of a percent or so. A good Realtor is well worth their commission and then some. They are responsible for not only getting your home sold but also creating demand, negotiating the best terms for you, and getting you to the finish line.
Q: How much are the closing costs to sell my home?
A: In addition to the commissions (roughly 5-6% of sales price), you will also pay various fees at closing such as seller-prep/attorney fees, your prorated portion of HOA dues, the HOA closing/release fee, your prorated portion of property taxes and the excise tax. In NC, this excise tax (also known as a transfer tax) is usually paid by the seller in resale transactions and calculated at $1 for every $500 of the sales price. There may also be some additional misc fees charged to you at closing but these are the larger ones.
Choosing a Realtor to Sell Your Home
Q: Should I interview multiple Realtors?
A: You absolutely can and most agents would expect you to do so but it's not necessary, especially if you already have a good relationship with a Realtor you know and trust. See my next answer about what to look for when choosing a listing agent to sell your home. Should you choose to interview one (or more), this would be good information to keep in mind.
Q: What should I look for in a listing agent when choosing one to sell my home?
A: When selling your home in ANY market (buyer's market or a seller's market), you always want to look for an experienced listing agent that understands the current market conditions in your area. They should be able to provide examples of their marketing and explain how they plan to market your home so that it stands out from the competition. Ask what they do to help you prepare your home and ask if they use a stager, professional photographer, or videographer. Do they employ other types of marketing such as drone footage, floorplans, descriptive MLS write-ups, social media advertising, printed brochures, or single property websites? Look for someone that will provide you with a CMA and honestly discuss pricing based on comparable properties. A good agent will be honest with you and will help you price it strategically so that your listing gets the right kind of activity. Be wary of any agent that is willing to overprice your home as they have just proven to not have your best interests in mind. More than likely, they are just trying to "win" your listing. Ask to see their reviews and testimonials, talk to them on the phone and in person to go over their process, and discuss your expectations. I wouldn't put too much emphasis on an agent that boasts about their numbers or claims to be a "top producer" as that could also indicate they are too busy to give you the personal service and attention a listing requires. Lastly, I realize commissions are important but that should be one of the last things to consider unless all other things are equal. The right agent will help you achieve better results (including more profit) in the end.
Q: Are all real estate agents the same?
A: Absolutely not and that's important for you to know. Simply having a real estate license does not give agents the skill set necessary to help you achieve the best results when selling your home. Their work ethic, level of experience, amount of effort, understanding of the market and today's consumers, communication style, and marketing expertise can vary immensely. This can easily equate to tens of thousands of dollars difference in your pocket as well as the level of stress that you do (or do not) have during the process.
Q: Will I get better results if I list my home with one of the 'big' companies?
A: No. When I became a Realtor in 1999, it helped to be associated with a larger firm (I actually worked with two large, exclusive firms) but the MLS has changed the way consumers shop for homes and has also leveled the playing field so that smaller independent firms (like Hendrix Properties) can market their listings in the same way that larger firms do - and in some cases, do a much better job. In today's digital marketplace, sellers should focus on the individual listing agent's capabilities rather than their company. After all, home buyers aren't looking for homes based on who the listing agent works for. They're looking for homes that suit their best interests, period.
Q: Should I consider one of these 'Guaranteed' or 'We'll buy it if we can't sell it' programs?
A: I would not advise it. Keep in mind that this is just a sales pitch to get into your living room and definitely not geared toward getting the best results for YOU. The way it works is that the company guarantees to buy your home from you if they can't sell it within a certain time period. The catch is they will buy it at a price that is significantly less than the current market value. If you truly want the best results, hire a reputable listing agent that simply works hard for you. No gimmicks are necessary.
Q: What makes Chad Hendrix and Hendrix Properties different from others?
A: At Hendrix Properties, we pride ourselves on being very customer-centric, detail-oriented, and doing what's best for our client's best interests, not our own. Also, we are very hands-on and consider ourselves to be more like project managers than salespeople in the sense that we develop a plan, organize the steps, and then execute with a high degree of success. We know what buyers want, we know where to find them (we get thousands and thousands on our website monthly), and we know how to attract them to your home. We work hard, don't shut off at 5 pm, are easy to reach, and do a good job at setting expectations.
Q: Okay, I am ready to sell. How do I get started?
A: The best way to get started is by filling out the form below and telling us a little about what you're considering doing. From there, we can set up a friendly and casual marketing consultation at your home so that we can get to know you and your home a little better. This is completely confidential and will go directly to Chad Hendrix's inbox. You can expect a reasonably quick reply from there.
[Click here for your free Home Value Estimate]