How the Charlotte Home Selling Process Works
Posted by Chad Hendrix on Wednesday, August 17, 2016 at 2:20 PM
By Chad Hendrix / August 17, 2016
Comment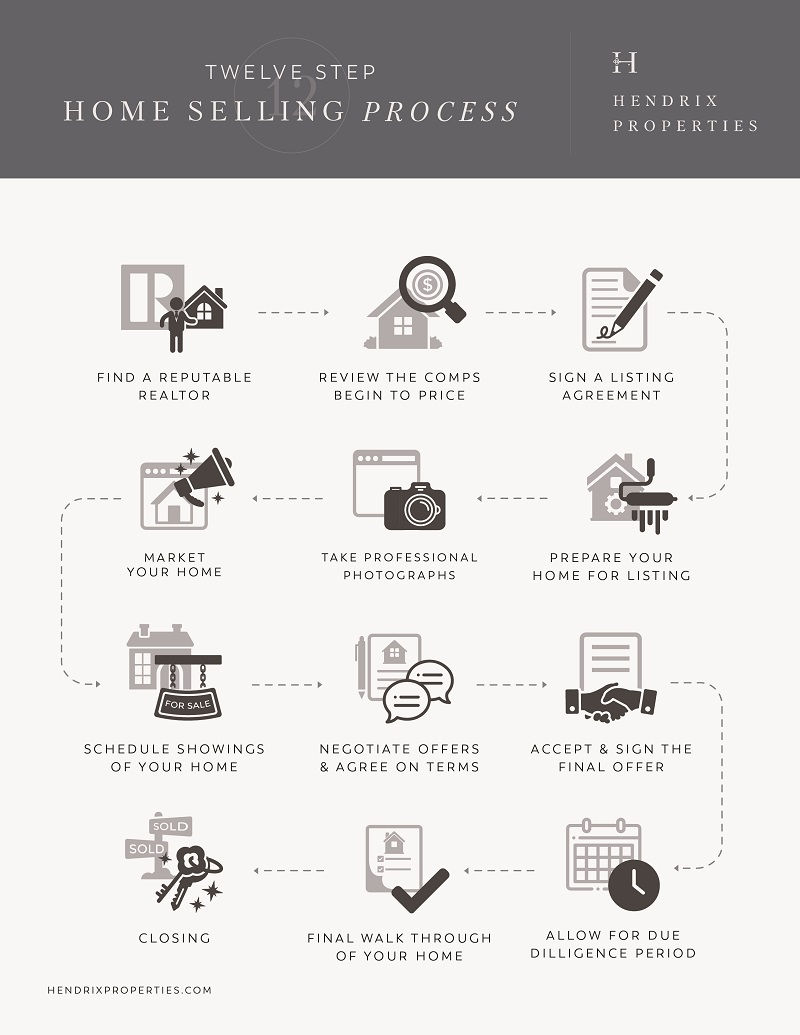 The Home Selling Process

Find a Reputable Realtor to List Your Home
Most people find a great Realtor through referrals from friends or neighbors. Don't just call the first agent you think of, though...take some time to look at each Realtor's website, their marketing strategy, and more, then ask for a meeting in person. The initial meeting doesn't have to be lengthy, but you'll want to give the broker a chance to see your home, learn a little about your motivations and goals, and give you some rough ideas on how to prep your home for the next steps. You'll also want to give yourself enough time to get to know the agent, ask important questions, and determine whether you like their personality. You'll be spending a lot of time talking to your Realtor!
Also important to note is to get in touch as early as you know you'll be selling - months in advance is not too early! Don't assume your home is 'ready to go' because it looks clean and tidy. A great listing agent may see room for improvement in areas you didn't even realize buyers would notice.
Review Comparable Homes/Strategize Over Pricing
Once you've chosen a Realtor, they'll prepare a CMA (Comparative Market Analysis) or at least print out a few MLS sheets of similar properties that have sold in your area. In some cases where a property is really unique and comparables are hard to find, it may be a good idea to pay for an actual appraisal. Either way, take a good, objective look at the CMA or Appraisal to understand what home buyers have paid for similar properties recently. After all, these numbers determine your home's market value. Sometimes, the broker may already have this information prepared for your initial meeting. In other cases, they may need to see the home first in order to work up a more accurate assessment. The Realtor may offer their opinion on where your home should be priced, but if not, don't be afraid to ask. This is important to note: If you have not already signed a listing agreement with a prospective Realtor, don't tell them anything you wouldn't want possible buyers to know. After all, they don't represent you until the agreement is signed.
Sign Listing Agreement and Disclosures
Once you decide to make a Realtor your official Listing Agent, notify them, and they'll prepare a Listing Agreement and other paperwork to review with you and sign. If you haven't already discussed these details in your initial meeting, expect to talk about how much they charge (their "commission rate," which is often negotiable), the length of the listing period, how they'll market your home, the duties you'll owe each other along the way, any known defects to your home, etc. Once signed, it'll be official. You'll be in a contract with their real estate company to sell your home. For more details on this stage, check out our popular article on 13 things every seller should know before listing their home.
Prepare Your Home for the Market
Ideally, you'll have started preparing your home for sale before meeting with Realtors, but now is the time to fine-tune it even if you have. You'll want to fix any issues you know of upfront, from a broken dishwasher to a leaky roof. It might be a good idea to have a "pre-listing inspection" by a licensed inspector so that you are aware of any issues up front that you might not know of. If you decide against that route, at least spend some time looking at your home as if you were a buyer. Here's a good list of things to look for.
You'll want to make sure the home looks the best it can. This may mean new paint, de-cluttering, de-personalizing, installing new fixtures, or even appliances. In most cases, homeowners can benefit from bringing in a home stager. They may decide that a simple checklist of things for you to do will suffice and accessorizing is all that needs to be done or determine that the home actually needs to be staged with furniture. This may feel like a lot of work, but it's incredibly important and worth the effort.
Professional Photography/Videos
So, your home has been cleaned, repaired, staged, or accessorized and is basically ready for the world to see. Now it's time to have it photographed, specifically, professionally photographed. If your agent is walking around taking pictures with their phone or even their own camera and tripod, they're likely not going to do your home justice. Most buyers research homes for sale online before deciding to visit, so the photos of your house will be studied, shared, and looked at time and again. So much goes into properly highlighting your home's assets: lighting, angles, editing, time of day, etc. Don't shortchange your home and alienate potential buyers for what is a relatively small fee. Get a professional!
Market Your Home/List on the MLS
The MLS (Multiple Listing Service) is the main database of homes for sale in any given area. Once your Realtor puts your home in the MLS, that data feed then trickles down to thousands of sites locally and around the world (think: Zillow and Trulia) and is by far the most important piece of marketing that needs to be put into place from the get-go. Your home will appear on most real estate company websites (competitor sites), national portals, and directories as a result of being in this MLS data feed. A vast majority of the time, your MLS listing will be what sells your home as it's the first place Realtors and most consumers go to look for homes for sale. However, other marketing pieces such as targeted Facebook ads, email blasts to other agents who have sold homes in your area, and blog features can really increase exposure and help your home sell much faster than the MLS listing alone.
Schedule Showings on Your Home
Now that your home is being marketed openly, real estate agents will start asking to show your home. In most markets, electronic and punch code lock boxes can be installed at your property for easy access. Agents will make appointments through a centralized showing service platform and come out to view based upon your confirmation. You'll want to be absent during these showings for various reasons. After the showings, your agent will attempt to get feedback from the buyer's agent (and hopefully an offer) and use that information to gauge any need for changes to the home, appearance, or marketing strategy.
Negotiate Offers (hopefully multiple!)
If everything has been done correctly regarding the preparation and marketing of your home, you should expect to get an Offer to Purchase at some point after listing. In a hot seller's market, you may even get multiple offers! Once you do, you'll want to carefully consider the details of each offer, such as the offer price, how much due diligence and earnest money is being offered, the proposed closing date, the pre-approval letter, etc. There are many things to consider, and the highest price may not mean the best offer. Discuss the pros and cons carefully with your agent.
Execute the Contract
In most cases, you'll find some terms in an offer agreeable, but others you want to negotiate. By starting a negotiation, you're effectively rejecting the initial offer and proposing a new offer of your own. If you and the buyers agree to all terms (often done verbally after the initial rejection), a new official offer can be drawn up, all parties will sign, and now you are officially Under Contract. Remember, try to separate your emotions from the business side of this process and not let it turn into a battle of wills. Shooting for a "good, fair deal" and with a calm, collected approach will serve you well; you don't want to look back in a month and wish you hadn't held out over what now seems like a silly issue.
Buyer's Due Diligence Period
While having a contract on your home is a great start, the transaction isn't over yet. The buyer will likely be getting inspections done (some call this the "second set of negotiations"), working to secure financing if they're not paying cash, having their lender order the appraisal to determine how much they're willing to lend, having their attorneys will be examining the title, etc. Many steps after the contract negotiations can impact the sale of your home.
Final Walk Through
The final walk-through is typically the last step before closing and is often done the day before the closing is scheduled. In most cases, a final walk-through won't be scheduled until after their due diligence period is over, and all the issues of the deal are hammered out. The buyer will understandably want to come through your home to make sure all agreed-upon repairs from inspections were made, no damage was done to the home in the moving-out process, and to have one last look. This can be both an exciting and nervous time for buyers! Even though you'll be dealing with your own stresses, you'll want to make this step as easy as possible for the buyer. Try and give the home a good cleaning, arrange to have your things moved out earlier in the day, and give them the space they need to process the purchase they're making.
Close!!
To close on the home, you'll be signing paperwork via a closing attorney. In most cases, you'll go to the attorney's office, where you'll be guided through all the paperwork, usually in a different room or at a different time than the buyers themselves. In some situations, you may be able to sign ahead of time with no need to come to closing at all. Once all paperwork is signed, the attorney will arrange to record the new deed and any other paperwork. At that point, it's official...you've sold your home! Congratulations!
If you're considering selling your home, you can start by using our Free Home Value Report tool or fill out the form below, and we will be in touch.