How to Win in a Multiple Offer Situation when Buying a Home
Posted by Chad Hendrix on Tuesday, April 5, 2016 at 4:39 PM
By Chad Hendrix / April 5, 2016
Comment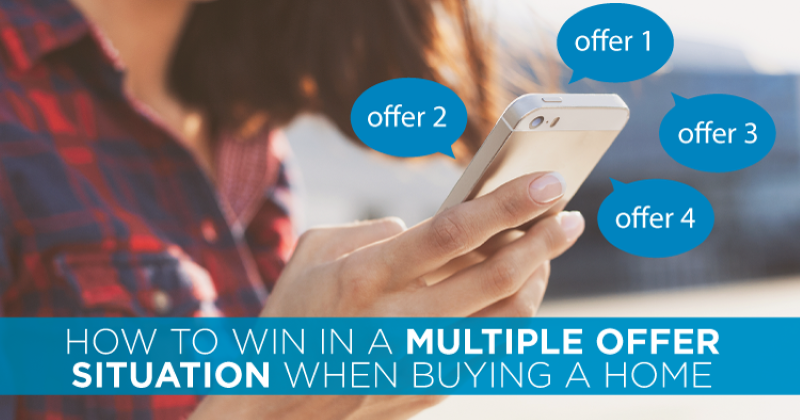 What do you do when you're actively in the market to buy a home, come across one that you absolutely love, make an offer, and find out that you're in the middle of a bidding war? Or maybe several people made offers, and now you're scrambling to even have a place at the table? Bidding wars are not uncommon in the Charlotte real estate market which is currently considered to be a seller's market). In cases like these, sellers may simply accept the offer that looks most attractive to them or they may come back to all parties and say, "We are currently in a multiple offer situation. Please submit your highest and best offer no later than X-0'clock tomorrow."

Any buyer who's found themselves in this situation and lost out on a great property knows the pain of feeling unprepared. Here are seven strategies that might just help your offer stand out over the others.
Don't focus solely on the purchase price.
While home sellers want money in their pockets as much as the rest of us, it's important to remember that the actual purchase price is only one component of an offer. If you can afford to offer full asking price or even a little more, that's certainly a positive place to start in a situation in which you anticipate multiple offers. But if you come in initially with an unreasonably high offer, the seller might actually see a red flag because the home may not appraise for that much, causing roadblocks a few weeks down the line. Have a good idea of what the home is truly worth based on recently sold, similar properties and the advice of your buyer's agent and then consider offering a "good, fair price."

Offer a higher due diligence amount.
I've written more extensively about due diligence in the past but in short, due diligence money is a certain amount of money that you pay to the seller upfront in exchange for a period of time in which to conduct all your homework. You might call this "putting some skin in the game." The money is paid directly to the seller and is theirs to keep if your offer is accepted. If the transaction proceeds all the way to closing, it will be credited back to you, the buyer. However, if you back out of the transaction for any reason other than the seller breaching the contract itself, you will not get that money back. Buyers typically offer a lower due diligence amount because they're scared of the possibility of losing that money. That risk can be mitigated by getting a good feel for the sellers: speaking with their agent, getting some reassurance that they'd be willing to negotiate repairs, taking a good look around the home for any signs of serious problems, etc. If you're willing to offer more due diligence money than others, you'll be more attractive to the seller. The move shows you're serious and also reassures the seller that IF you were to back out, they'd be compensated a little more for their lost time and any troubles.

Shorten the due diligence period.
The due diligence period, often 2-5 weeks, is the amount of time you've allowed yourself to get your inspections, survey, and appraisal is done, to get reassurance from loan officer that your loan will be secure, and so forth. Perhaps you found another home you like better, lost your job, found out you're being transferred with your job, didn't like the inspection results, etc. Per NC law, you can back out of the purchase for ANY reason whatsoever prior to the due diligence period ending and you'll still get your earnest money back. Once the due diligence period ends, if you decide to back out for whatever reason, both your earnest money and due diligence money are forfeited. While you're doing your due diligence, the seller is kind of held hostage so to speak. They know that at any time before the DD period ends, if you back out they'll have to start all over. From that perspective, a shorter DD period will ALWAYS be more attractive to a home seller. Carefully think about how much time you really need to do your due diligence and shorten it as much as you can so that the risk of lost time is cut a little shorter for the seller.

Consider offering a higher earnest money deposit (EMD).
Earnest money is a second amount put up in addition to due diligence money. EMD is held in escrow, either with a real estate company or attorney and will be credited back to you at closing. You will also get it back if you withdraw from the contract prior to the end of your due diligence period - remember, you paid for that right via your DD money. Should you decide to withdraw from the contract after the DD period ends, you'll forfeit this EMD money as well. This extra money can be looked at by a seller as reassurance that you're very invested in seeing the transaction come to fruition. If you were the seller, wouldn't you want as much reassurance as possible?

Have solid financing in place.
When you present your Offer to Purchase, you'll include either a proof of funds from your bank (if you're paying cash) or a pre-approval letter from your mortgage company or bank to show the sellers that you're capable of purchasing their home. You'll also be indicating on the Offer whether or not you'll be getting a loan and if so, the details. While the contract is not contingent on these details, it's still your "statement" to the seller that you can complete the purchase. It goes without saying that a full cash deal will be the most attractive to the seller because they know no issues with the loan process will stymie things. But, if you're putting down 10-20% on a loan, that's also very attractive because it shows that you have saved some money and will likely be a solid loanee and may have fewer issues obtaining financing. Additionally, a good pre-approval letter from a reputable lender is also a plus.

Offer an attractive closing timeline.
This might be the least important of all seven tips because many sellers aren't worried about the difference between a three week close or a six week close, depending on their circumstances. But, if they do have extenuating circumstances requiring them to sell like a move for a job or the upcoming school year starting, a quick or slow close might be very attractive to them. Have your buyer's agent reach out to the listing agent and see if they can find out when the seller would 'prefer' to close. If they have a preference, try and satisfy that. In more cases than not, listing agents won't give too many details on closing preferences so as not to show the seller's hand if they're anxious to sell (and, therefore, negotiate more), but it's worth asking.

Have a great Realtor by your side.
Let's call this an intangible, but if your buyer's agent is professional in manner, submits nice, clean documents that aren't crooked or scanned-in by appearance, has a great attitude, and acts as though they're working hard for you, that can absolutely make your offer stand out in a crowd. It can indicate to a seller that the transaction won't be held up by incompetence, poor organizational skills, or other factors out of their control. Not to mention, everyone likes to be around friendly people, right? So, if two offers are the same but one Realtor is more likable than another, might that make a difference? You betcha.
So, let's pretend for a minute that YOU'RE the seller. You know your home is going to be a hot property because you've staged it, had professional photography taken, priced it right, and hired a great Realtor. In addition, you've already moved to another home and prefer not to drag the process out. You decide to list it at $230,000 (and you question whether or not it would appraise for any more than that) on April 15th. Within an hour of putting it on the market, agents are clamoring to make appointments with their clients to see it. After two days of showings and offers coming in, you decide to stop further showings and invite all interested parties to submit their "highest and best." You get the following seven offers. Which one(s) would YOU find the most appealing? Do you go with the highest offer? The shortest closing period? The largest Earnest Money deposit?
| | | | | | | | | | |
| --- | --- | --- | --- | --- | --- | --- | --- | --- | --- |
| Offer # | Offer price | closing costs wanted | Net Sales Price | DD offered | EMD offered | Money down | Warranty? (about $500) | DD date | Proposed Closing Date |
| 1 | $235,100 | $0 | $235,100 | $500 | $1,000 | 20% | N | May 4 | May 18 |
| 2 | $235,000 | $0 | $235,000 | $1,500 | $1,000 | 5% | Y | May 10 | May 22 |
| 3 | $225,000 | $0 | $225,000 | $700 | $1,500 | CASH | Y | April 29 | May 4 |
| 4 | $230,000 | $2,500 | $227,500 | $1,000 | $2,000 | 5% | Y | May 15 | May 23 |
| 5 | $232,500 | $0 | $232,500 | $500 | $2,500 | 5% | N | May 18 | June 8 |
| 6 | $230,500 | $2,500 | $228,000 | $250 | $1,000 | 0% | N | May 18 | May 24 |
| 7 | $230,000 | $2,000 | $228,000 | $1,000 | $2,300 | 20% | N | May 19 | May 31 |
Please let us know your thoughts in the comments below. Which of these do you think would be more appealing to a typical home seller in this scenario? Now, take your thoughts and see if you can apply them to your own multiple offer situation if you happen to find yourself in one. And, as always, feel free to call us if you'd like to chat about your home buying needs.