Incredible Mooresville Statistics That Explain the Lake Norman Boom
Posted by Chad Hendrix on Monday, September 26, 2016 at 3:52 PM
By Chad Hendrix / September 26, 2016
Comment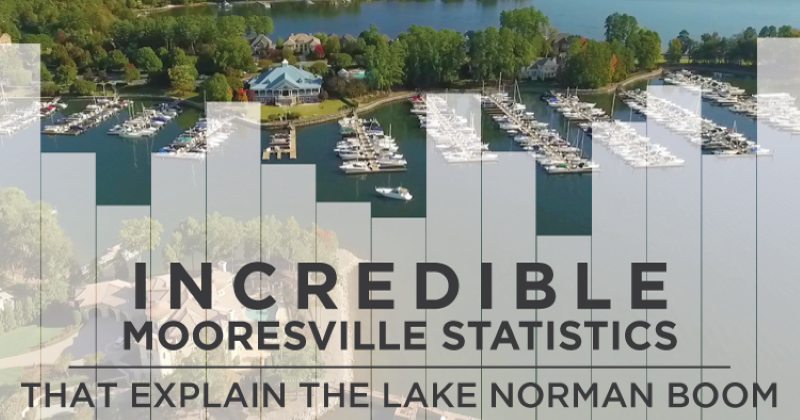 You can't go out for a burger or a board meeting in Charlotte without hearing someone talk about Mooresville. What was once little more than a lakeside stop-off is now one of the fastest-growing areas in the Charlotte metro region.
Here are a few statistics about Mooresville and greater Lake Norman that are pretty hard to ignore:
In just ten years, the population of Mooresville, NC, grew by over 60%.
Seriously? Seriously. Between 2000 when the census was taken in Mooresville at about 20,443 people, and 2010, when the number sprung up to 32,711, another 12,000 folks moved to town. That's partly because the population of the greater Charlotte area was also exploding at the time, but also due in large part to Mooresville's accessibility, family-friendly development, and an increase in job opportunities.
The Iredell-Statesville School System has over 20,000 students.
Mooresville is known for having high-quality public schools. There are now over 36 individual schools in the Iredell school system, most in Mooresville. Its student population makes it one of the largest school districts in all of North Carolina.
The number of people working in Mooresville is expected to increase by at least 50% in the next decade.
At last count, about 26,000 people worked in the Mooresville region. Home to over 60 NASCAR teams as well as several multi-national corporations, Mooresville's worker growth is expected to top over 40,000 by 2025. Commuting into Charlotte from Mooresville? Many more people are just buying homes at the lake and working right in town.
Between 1988 and 2008, 37% of undeveloped lakefront land on Lake Norman had been developed.
Waterfront homes in Charlotte are a hot commodity, and cities like Mooresville (and nearby Cornelius) are hotbeds for development. From on-water condos to mega-mansions with matching views, people are flocking to the lake for a sense of tranquility just 20 miles from Charlotte.
And that's just the tip of the iceberg. Lake Norman is the largest freshwater body of water in the state of North Carolina and its proximity to one of the fastest-growing cities in the country means adjacent towns like Mooresville are reaping the rewards. Thankfully, Mooresville has been very thoughtful in its development and worked hard to control the feel and density of its city limits. That means that for decades to come, people will still be able to wander aimlessly through downtown or picnic in a wooded area just a mile from office park development.
We've been marketing homes for sale in Mooresville for as long as we can remember, but the market has never been as hot as it is now. If you're ready to sell your Mooresville home (or looking to buy one!), give us a call today to get started.
Want to search for homes in Mooresville right now? Click Here to find your perfect home in Mooresville!