What Millennial Home Buyers are Looking for in Charlotte
Posted by Chad Hendrix on Tuesday, July 5, 2016 at 2:14 PM
By Chad Hendrix / July 5, 2016
Comment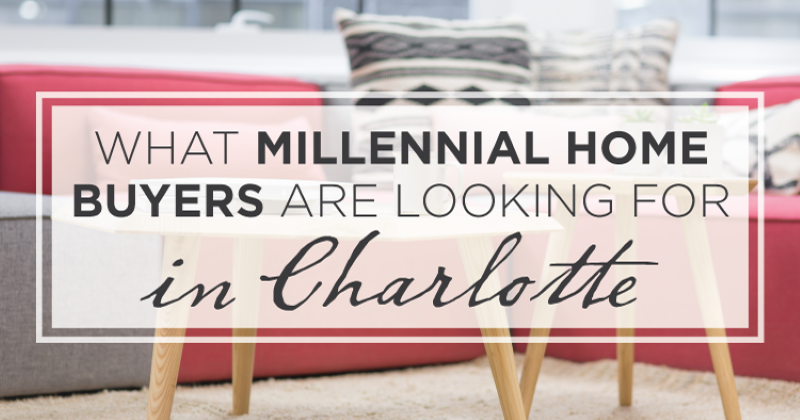 Millennials are, without a doubt, the next big thing to happen to the housing market. Though they make up only 14% of the U.S. population, millennials account for nearly a third of the potential homebuyers out there. For Charlotte, their impact is magnified.
National news sources and real estate organizations alike are calling Charlotte one of the hottest real estate markets in the country for millennials. That's good news for sellers, who're happy to have additional buyers in the pool, and for developers – if they'd ever start building more homes in Charlotte for entry-level buyers.
What, exactly, is a millennial home buyer in Charlotte looking for in what will likely be their first house?

Ultra-Affordability
Obviously, millennial buyers are coming to the table with less cash than their retired counterparts but today's millennials have unfortunately saved less for a down payment than any other generation in history. That means they'll be relying on unusual mortgage packages and properties eligible for FHA financing. For private sellers, enticing millennial buyers with options like seller-financing, rent-to-own, and paid closing costs is a worthwhile investment.
Older Homes
Yes, millennials have a reputation for loving their USB charging outlets and cutting-edge quartz countertops but did you know that statistically, they're more likely than any other generation to buy an older, previously lived-in home? The biggest factor is affordability. Millennials tend to be on one end of the spectrum or the other: they want lots of space and yard in their first home (they plan to live in it for decades) or they want something small and centrally located. The ones looking at older homes don't mind doing renovations but as time turns, millennial renters looking to buy out of Charlotte's high-end apartment-style living may be less apt to make aesthetic compromises.
Walkable Amenities
As we mentioned, millennials in nearly every market say walkability is a huge concern. In Charlotte, public transportation projects like LYNX and the Streetcar are helping connect far-flung neighborhoods, and public works like B-Cycle allow for painless commuting for the eco- and calorie-conscious. But millennials in the Queen City want to live, work, and play in an urban setting; they want to be able to walk to shopping, dining, and retail from their homes if possible. That's why areas like Southend, Plaza Midwood, and Dilworth are currently such hot rental markets. Sellers who previously may have had trouble unloading a too-close-to-the-road or awakened-by-nightlife property may be in luck with millennial buyers.
Of course, millennial home buyers in Charlotte want the same things any other cohort of millennials wants, too. They love high-tech home features, responsive design, and open floorplans well-suited for entertaining. They like light, great design, and space that can be used to work from home, house a guest, or serve as a playroom.
Are you a millennial looking at houses for sale in Charlotte? A professional buyer's agent with experience in the Charlotte market can help you make the most of your money.
Call us today to find out why you should be working with a buyer's agent…for free.