What to Know About Owning a Home With a Pool
Posted by Chad Hendrix on Thursday, April 6, 2017 at 12:16 PM
By Chad Hendrix / April 6, 2017
Comment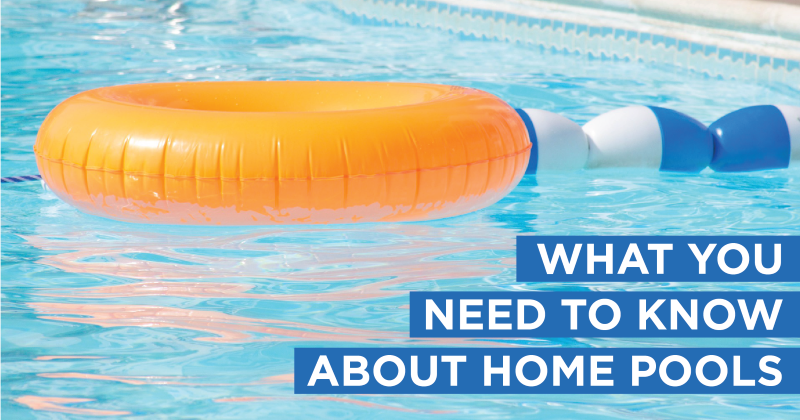 Did you know there are over 10,000,000 swimming pools in the U.S.?
Pools are one of the most requested luxury items by homebuyers, and here in Charlotte, pools are hot. Of course, many of the area's planned neighborhoods offer community pools to residents, and plenty of the city's apartment, condo, and townhome complexes have pools.
Pools can be a wonderful thing! They're great fun for kids and have a tendency to bring neighbors together. But before you jump to make an offer on a house with a pool in Charlotte (or anywhere!), there are a few things you should consider.
The Cost of a Home Pool
Home pools can be a liability. That's not to say they're not worth it, but they can be expensive in more ways than one. For example, most insurance companies recommend you up your liability coverage by as much as $200,000-$400,000 if you have a pool which can raise your premiums substantially. Property insurance should also cover your pool in case it's damaged in a storm or other natural disaster.
It's important to think about personal liability when it comes to a home pool; they're statistically very dangerous. For example, if you plan to allow neighborhood kids and your children's friends to swim in your pool, a personal umbrella liability policy might be worth the money. A lot of insurance companies actually require that you build a four-foot fence around the perimeter of your pool just to maintain coverage.
And remember, pools don't maintain themselves. You've got to regularly service, clean, and treat your pool, even if it's saltwater. The average cost for pool chemicals per month is nearly $90. Be sure that investment is worth it! Analysts say the average American pool owner actually spends over $1,000 an hour enjoying their pool because they use it so infrequently.

Can You Build a Pool?
Want to build your own pool? Before you buy a house with a backyard big enough for a pool or invest in one at your existing place, know the basics. The average cost to build an in-ground pool is over $21,000, and that doesn't include maintenance. Here are the basic in-ground pool types.
Fiberglass Pools: Made by a manufacturer and come in one piece. Flexible and cost-effective.
Concrete Pools: The most sturdy but most costly to build. Can be customized to any shape or size.
Lap Pools/Spa Pools: Long and thin, usually made of concrete and take up minimal room.
Saltwater Pools: Expensive to build but maintenance is less costly and avoid excessive chemicals.
It's also imperative that you know the restrictions! If you live in a neighborhood governed by an HOA, you may have to have your pool build approved, or you may not be allowed to build one at all. You might also find restrictions on the shape or size of your pool and directives on whether or not can be above-ground. There might be noise restrictions in your neighborhood that prevent you from using your pool whenever you want, too.
City Restrictions for Residential Pools
The city/county you live in probably has a pretty robust set of regulations regarding building pools, too. You can't just dig a hole in the backyard and fill it with water. For example, Charlotte Mecklenburg requires you to build a fence around your pool with an alarm. There are also restrictions on things like drain covers, outlet systems, and even how wastewater from the pool is handled. It can be complicated!
In Charlotte, residential pools must:
Receive a building permit and plumbing permit
Submit an application to the Mecklenburg County Health Department
Be surrounded by a fence at least 48" above grade and that raises no more than 2" off the ground
Comply with the water circulation requirements of Section AG 106 of the NC Residential Code
Be treated or drained at the end of the season to prevent unsanitary conditions from forming
Are you looking at houses with pools in Charlotte? We get it...pools are great! We've worked with a lot of pool-friendly buyers over the years so we've got experience navigating the complex issues these home features can present.

Here is an updated list of Charlotte homes with pools for sale in case you'd like to browse: