Do You Need a Real Estate Agent When Buying New Construction?
Posted by Chad Hendrix on Thursday, May 5, 2022 at 11:29 AM
By Chad Hendrix / May 5, 2022
Comment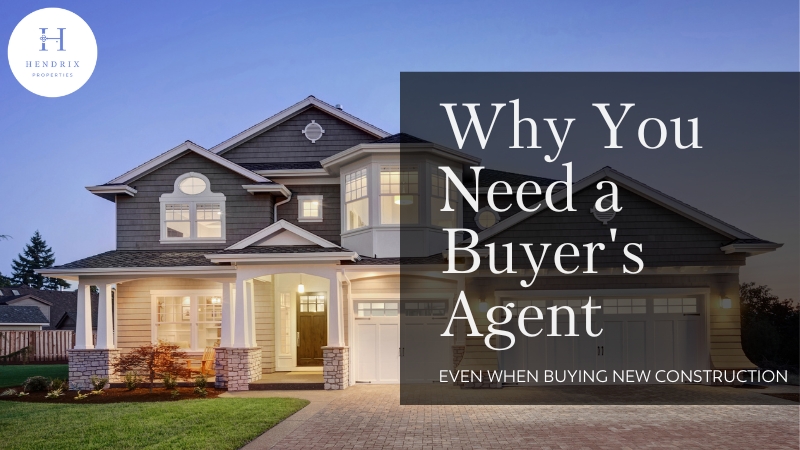 If you're thinking of purchasing new construction in the Charlotte, NC area (or in any location, I'd imagine), here are a few things to consider and some things that you may or may not know. And please trust me when I tell you there isn't one bit of fluff or sales talk here. I'm here to help educate you and hopefully make you a more informed Charlotte new home buyer.
Yes, You Need Representation When Purchasing New Construction.
"Buyer's agents" are real estate agents that represent the home buyer in a home purchase. A real estate agent becomes your buyer's agent once you sign a buyer agency agreement with their firm. Once that happens, they will have certain duties to you that all work towards protecting your best interests during your home transaction. The concept of buyer agency has been in existence in the real estate world for at least 25 years now, but not everyone realizes that you need your own representation when purchasing New Construction Homes as well. A buyer's agent is there to protect you, so make sure you have one. Here are some things that your buyer's agent may do for you during your new home purchase:
Help advise you on neighborhood, location, picking the right lot, upgrades, plan modifications, etc.
Helping review and understand builder contracts and maintaining paperwork.
Advising you on the importance of independent home inspections, connecting you with a proven inspector, and helping you decide which inspections to consider (pre-drywall, final, radon, etc).
Connecting you with a good lender and attorney if you choose not to work with the builder's preferred lender and attorney.
Provide you professional guidance and have someone in your corner along the way.
and more...
The Sales Representative Represents the Builder, Not You!
When you walk into a model home or sales trailer, you're typically met by the New Homes salesperson or their assistant if they happen to be off that day. These folks are usually true professionals and will welcome you with open arms. Their job is to sell you their product, a new home. They are also very knowledgeable about the product, can be great resources on the surroundings, know much about the construction process, etc. Personally, I LOVE working with new home sales reps because they are specialists at what they do and make my job easier. But again, they are representing the builder, not you.
A new home sales rep won't necessarily advise you against purchasing one of their lots that may back up to a power line or won't bode well for future resale if you're unknowingly spending too much on upgrades, fight for your behalf if the construction personnel doesn't deal with issues you come across, etc. You should always have your own representation. They have theirs; you should have yours.
The Builder pays Your Agent.
For a builder to put their homes for sale on the MLS, they must offer some form of compensation to buyer's agents. That's an MLS rule. The MLS (Multiple Listing Service) is a powerful tool because that's the main database of homes for sale across any given region. Once a home goes on the MLS, that data can then trickle down to all the real estate companies and agent sites (like the one you're on right now, for instance) as well as the national portals like Zillow, Trulia, and Realtor dot com. You can see what a massive amount of exposure that can bring to a builder. But they have to offer compensation to get this kind of exposure. So, when a Realtor says, "The builder pays us," that's what they are referring to. With that said, why would you NOT bring your own representation?! It's free! :-)
You Won't Get a Better Deal by Showing Up Without an Agent.
It would be natural to think that a builder might save money if you showed up unrepresented. And then perhaps they can give some of that 'would-be' compensation back to you in the form of extra upgrades or a lower price perhaps? Well, it doesn't work that way. The builders already have that compensation built into their budget, and if you don't bring your own representation, they'll pocket it, so to speak. The truth is, I have great relationships with the new home sales reps out there, and I'm sure they'd tell you the same thing about me. In a new home deal, everyone is typically working towards the same goal, and that's to get you to the closing table with a smile on your face.
Important! Mention Your Real Estate Agent When You First Register.
When you walk into a new home sales office, they'll typically ask you to register. They'll ask for your contact information, how you found them, the agent's name (if you have one), etc. Hopefully, by now, you're convinced that you need your own representation, and if so, also know that you need to put your agent's name down during this registration process. While many builders may not have a problem with you doing so at some point down the road, others DO have an issue with it. A few builders have a rule that if you don't register your agent at the first visit, they'll refuse to compensate them, leaving you the option of paying your Realtor yourself or going in with no representation. Neither sounds like a great option, does it?


In Conclusion, If you're considering buying new homes in Charlotte or the surrounding areas, I suggest you reach out to me as early as possible, and let's start with a friendly conversation. If you've already started looking around and have visited the Charlotte area's new home communities, that's okay too. Let's pick up where you currently are and go from there. But you should always have a great Realtor by your side whether you're buying new or resale, and I'd like to be that person possibly.

I'm Chad Hendrix, Owner and Broker in Charge of Hendrix Properties, and I sincerely hope you've gained valuable insight from reading my article. You can fill out the contact form below to connect directly with me or Call me at 704-737-4400 for a friendly, NO-pressure conversation about your needs.