Living in Charlotte NC- Charlotte Neighborhoods
If you're not already familiar with the Charlotte, North Carolina area and are thinking of moving to Charlotte, it can be a little daunting, I'm sure. Where is the best place to live in Charlotte? What are Charlotte's best neighborhoods? Where are the best schools in Charlotte? What Charlotte communities are trending? Hopefully, the following information will help you understand the different areas of Charlotte so that you can then dig in a bit further and go from there. We'd love to help so don't hesitate to reach out!


Charlotte, NC Counties
In the Charlotte, NC region, you have about 8 counties that are primarily where most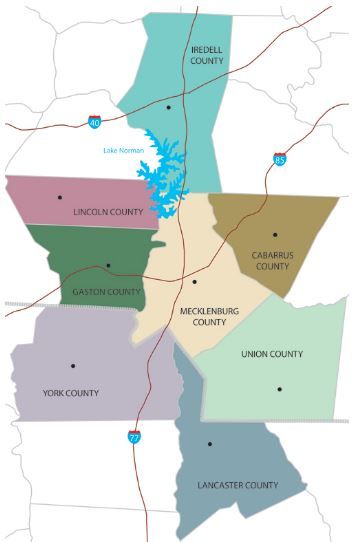 folks reside. Mecklenburg County is at the heart of the region and is the county that Charlotte and several other popular suburbs are located in such as Huntersville, Cornelius, Davidson, Mint Hill, and Matthews. In the Lake Norman area just north of Charlotte, you have Iredell (Mooresville and Statesville) and Lincoln County (Denver). East of Charlotte, there's Cabarrus County (Concord, Kannapolis, and Harrisburg). On the south/southeast side, you have the very popular Union County (Waxhaw, Weddington, Wesley Chapel, and Marvin). Next to that and just south of Ballantyne into South Carolina, there's the quickly growing Lancaster County (Indian Land, SC). Also on the SC side is the booming York County (Fort Mill which is considered to have great schools, Tega Cay, Rock Hill, and Lake Wylie). Gaston County (Gastonia, Stanley, and the popular and quaint Belmont) is on the west side.
If you'd like to learn more about each of the counties, the UNC-Charlotte Urban Institute has an excellent website that breaks down each of them and has some really great write-ups.
Click on each of the counties below to be taken to a page with available homes for sale and more information.
Charlotte Suburbs and Communities
There are well over 40 establish towns or cities in the Charlotte area as well as general "areas" within the Charlotte city limits that people like to refer to (such as "Ballantyne", University area, or South Charlotte for instance). It's quite interesting in that each of them really has their own feel and characteristics. No matter what you're looking for, I know we can help you find the area meant for you. The links below will take you to more information as well as homes for sale in each of the areas in case you'd like to just start exploring or already know where you're looking. Or, you can simply call me, Chad Hendrix, at 704-737-4400 if you'd like some help narrowing your focus.
Charlotte Communities (suburbs and areas)
Charlotte, North Carolina
Homebuyers looking for Charlotte homes for sale will find a nice selection of single-family homes on quiet streets, as well as brand new condominiums and townhouse developments. Whether you're looking for your first home, luxury real estate, or investment property to add to your portfolio, you'll find what you're looking for right here.
Besides its natural beauty, Charlotte is an attractive place to live for a host of reasons. Its location is perfect for those who enjoy the advantages of a sophisticated urban environment, as well as the beauty and tranquility of mountains, plains, and shorelines. As part of North Carolina's Piedmont region, the terrain in and around Charlotte consists of rolling hills, thick woodlands, pristine lakes, and meandering rivers. And, since it is situated only 85 miles southeast of the Appalachians and less than 200 miles from the Atlantic shoreline, Charlotte and the surrounding areas are ideal for those who love variety.
Charlotte Real Estate Market
With 200 neighborhoods, Charlotte offers excellent housing options to suit every lifestyle and budget. Here you will find a wide variety of communities, from urban downtown Charlotte condominiums and lofts to historic districts, to golf course homes, equestrian communities, and waterfront homes for sale. Whether you like the idea of getting away from it all with some acreage outside of the city or you prefer the buzz of café culture and urban living, there is something for everyone in this market.
Charlotte Schools
Charlotte offers a wide variety of outstanding education options, whether for K-12 or post-secondary training. The award-winning Charlotte-Mecklenburg school district is the 2nd largest in North Carolina and offers a wide variety of services and education choices. Post-secondary options abound and include UNC Charlotte, Queen's University, Johnson and Wales, the Charlotte Piedmont Community College, with six campuses and more than 70,000 students, and the Charlotte School of Law, to name just a few.
Employment in Charlotte, NC
While Charlotte certainly possesses distinct Southern charm, it is also an international business hub. It is the 2nd largest banking and financial center in the U.S. for assets held, and it is a major hub or headquarters for numerous leading industries and associations. Companies like Goodrich Corp., Duke Energy, Lowe's, LendingTree, U.S. Airways, Time Warner Cable, and Harris Teeter, to name a few, have a significant presence here. Charlotte is also a major site for energy-related organizations such as Siemens, Babcock and Wilcox, Toshiba, Westinghouse, and more. In recent years, Charlotte has also become a major hub for shipping and freight in the eastern U.S.
Charlotte Amenities and Things To Do
If you love sports, you will love Charlotte. The NFL, the NBA, the U.S. National Whitewater Center, and NASCAR are all either headquartered in Charlotte or have a major presence here. Charlotte is also home to a professional football team, the Carolina Panthers. Enthusiasts of arts, culture, and the sciences will also find plenty to enjoy with attractions like Discovery Place, a hands-on science museum, the Mint Museum of Art, and the Levine Museum of the New South. If shopping is your preference, you'll find no lack of unique boutiques or internationally known brands such as Nieman Marcus, Nordstrom, or Crate and Barrel. And for dining opportunities, you'll find everything here from traditional Southern comfort foods to international cuisine.
Charlotte Neighborhoods
Charlotte City Limits (broken down into sections):
Charlotte Suburbs (going clockwise around Charlotte):
If you're considering a move to the Charlotte, NC area and have been curious about what it's like living in Charlotte, I hope that you've found this guide helpful. I would encourage you to fill out the contact form below if you'd like to talk more. Having a friendly conversation with a real estate expert is probably the most productive thing you can do at this point. You can also reach out to me, Chad Hendrix, directly on my mobile at 704-737-4400.